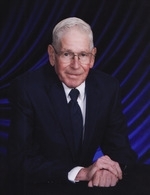 William "Billy" Wendell Cusic Sr., of Chaptico, Maryland, passed away on August 13, 2016 at his home in Chaptico. Born on February 23, 1941 in Leonardtown, Maryland, Billy was a lifelong resident of St. Mary's County having grown up in Mechanicsville. As a child, he was an altar boy at St. Joseph's Catholic Church and also attended St. Joseph's Catholic School. He went on to graduate from Margaret Brent High School, Class of 1960. On June 16, 1962 he married Joyce Ann Knott from Chaptico at Sacred Heart Catholic Church in Bushwood, Maryland. From there they went on to celebrate 54 years of marriage and had three children.

During his younger years, he worked with his father, Elwood Cusic and brothers Bobby and Teenie on the Patuxent View Farm. There he raised cattle, hogs, grew tobacco, hay and other products. Billy was a proud part of showing prized Hereford Cattle winning many awards at county fairs throughout the state. He continued that job until 1963. From his years of being a farmer Billy acquired quite an ability to fix mechanical things. He moved on from being a farmer to work for Maryland Tobacco Growers in Waldorf, Maryland. There they sent him to maintenance and repair school for International Trucks and Tractors. He later moved on to work for Joe McKay (International Tractors) in Leonardtown, Maryland and being promoted to Shop Foreman.

In the early 1970's Billy decided it was time to venture out on his own and become self-employed as a mobile mechanic. He then purchased a used potato chip box truck which belonged to his twin brother and the rest is history. Billy began his mobile mechanic service by going to customer's farms and places of business and repaired whatever truck, tractor or equipment that needed to be fixed.

In 1976 he moved from a small house trailer in Leonardtown where he and his wife and three children lived and built a home with a one bay garage in Chaptico "Crossroads". There his business continued to grow and as the business grew he slowly expanded his shop. What started as a one man operation with a lot of help and support from his wife, Joyce Ann, had turned into something larger than he had ever dreamed. Over time he expanded to numerous service trucks, light and heavy duty wreckers and rollbacks with 24 hour a day service/towing.

In what little free time Billy had over the years he loved going to antique car shows and restoring antique cars. He and his wife along with their son, Johnny, restored several cars that were pristine down to the exact style nut and bolt from the factory. One such vehicle, a 1956 Ford Victoria, took 2nd place in the Nation in Nashville, Tennessee. Another one, a 1956 Chevrolet Belair, 2 door hardtop, won Best 1956 at the Classic Chevy Show in Baltimore, Maryland.

Over the years, Billy has volunteered many hours too many different causes. He was a past member of the Mechanicsville Volunteer Fire Department and Rescue Squad. He was instrumental in the restoration of the Old St. Joseph's Cemetery on Busy Corner Road in Morganza, Maryland. Along with the help of former Sheriff and friend, Wayne Pettit, Billy was able to gain access to work inmates on weekends to come and help his family, friends and others restore the old cemetery back to the way it should have looked by showing respect for those who had passed before us while giving their families the ability to find their loved ones. He was also a very big supporter for our local Fire and EMS and Law Enforcement in the county. The guys and gals in red and blue knew if they got in a jam they could give him a call and he would be right there to help without question!

Billy was predeceased by sons: William Wendell Cusic, Jr., "Billy Boy", and Timothy Allen "Timmy" Cusic, brother, Joseph "Teenie" Cusic, Jr., Father, Joseph Elwood Cusic and Mother, Elvie Wood Cusic. He is survived by his wife, Joyce Ann, son, Johnny Cusic (Amy), twin brother, Bobby Cusic (Betty Jean) and grandchildren: Christian Cusic-Wilson, Connor William Cusic and Carson Blake Cusic.

The family will receive friends on Friday, August 19, 2016 from 5:00 PM- 8:00 PM with prayers recited at 7:00 PM in the Mattingley-Gardiner Funeral Home Leonardtown, MD. A Mass of Christian Burial will be held on Saturday, August 20, 2016 at 10:00 AM in St. Joseph's Catholic Church with Father Charles Gallagher officiating. Interment will follow in Queen of Peace Catholic Cemetery Helen, MD. In lieu of flowers, contributions may be made to Hospice of St. Mary's County P.O. Box 625 Leonardtown, MD 20650. Arrangement provided by the Mattingley-Gardiner Funeral Home, P.A. Leonardtown, MD.