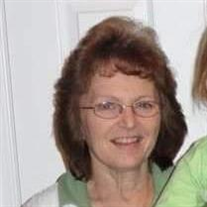 Donna Lynn Steckowski was granted her angel wings on Monday August 15, 2016. She was born August 18, 1960 in South Hampton, NY to the late George and Judith Seacord. She is preceded in death by her parents George and Judy Seacord, several aunts and uncles and her beloved Labrador retriever Cheyanne .

Donna married the love of her life, John "Jody" Steckowski, on November 4, 1978. They were married for 37 wonderful years. During their marriage, home was where the United States Navy sent them and in 1992 finally settling down to call a place home in Lexington Park, Maryland.

Donna spent most of her working career in retail service. She was lastly employed as a pharmacy tech with a local pharmacy. Her greatest joy in life was the day she became a grandmother. All seven of her grandchildren were the apple of her eye and lived every moment for each one of them. She enjoyed arts and crafts, especially cross stitching and painting.

She was an avid reader, completing several novels a week. She also enjoyed crossword puzzles. One of her proudest moments was becoming a Maryland Emergency Medical Tech with the Lexington Park Volunteer Rescue Squad following in the footsteps of her son Kevin and daughter Jody. She obtained so much gratification and happiness helping those in need. Donna always had a smile that would leave a lasting impression to those around her.

Remembrance in life's passing is the truest form of love one can give. For a memory should never die and a love should live forever in the heart. Donna leaves behind to cherish her memories her husband, John "Ski" "Jody" Steckowski; her children, Kevin and Kelly Steckowski of Leonardtown, Maryland , Jody and Scott Lagestee of Davidson, North Carolina and Christopher and Angie Steckowski of California, Maryland. She also leaves behind her seven grandchildren, Destiny, Harleigh, Ethan, Jackson, Lukas, Shawn and Kerri.

Family will receive friends on Monday August 22, 2016 from 10AM until Funeral Service at 11AM at the Bay District Volunteer Fire Department Company 3 Social Hall, 46900 South Shangrila Drive, Lexington Park, Maryland 20653. Pallbearers will be Kevin Steckowski, Kelly Norris, Jody and Scott Lagestee, and Chris and Angie Steckowski. Contributions in Donna's name may be sent to Hospice of St. Mary's or a charity of your choice. Arrangements by Raymond Funeral Service.