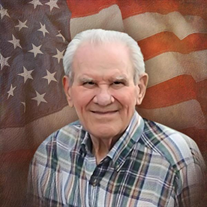 Anthony Dutton Elder, 86, was born on February 27, 1930 in Bel Alton, Maryland. He was the sixth of 12 children. He died peacefully on August 14, 2016 in La Plata, Maryland. On August 4, 1951, Dutton married Dolores Costello of Bryantown, Maryland at St. Mary's Church. They made their home in La Plata in 1954 and became members of Sacred Heart Parish. This month was the 65th anniversary of their marriage.

In his earlier years, he attended Sacred Heart School in La Plata for eight years La Plata High School and graduated in 1948. He joined the Maryland National Guard (La Plata) and served in the middle 50's. He began work as a teenager with his father, Albert Sr., as a carpenter helper and continued after high school until after his father's death in 1954.

He learned brick construction by working with his father and took pride in their various buildings throughout Charles County, including the first hospital (Physician's Memorial) and Our Lady of the Wayside at Chaptico. Sacred Heart Rectory, and Old Brent Hall (at Archbishop Neale School) were also a part of their legacy as builders. Their last job together was at the Causine Manor House near Chapel Point (1954).

He began working at La Plata Mill and Supply and later with his brother, Albert, Jr., who started La Plata TV and Appliance, until retirement in 2000. He took continuing education courses at General Electric Seminars, etc. to learn electronics, television repair, appliance repair/installation, and held a Master Electrician's License.

Dutton's love of building stayed with him throughout his life as he maintained his skills by helping his family tackle repairs and remodeling work in their homes. After he became a dad, he began making desks, cabinets, and special furniture his children needed or wanted. Grandchildren, too, shared the benefit of his skills such as toy chests, bookcases, and tables. Recently, his high school great-grandson asked for his expertise in making a specially-fit set of insulated boxes for a project.

Dutton was a gifted athlete in high school and after in men's leagues for years. He tried out for the U.S. Olympic Soccer Team twice ('49 and '50) and played for the trophy-winning Hotel Charles in the Washington Suburban Soccer League. Baseball was his favorite sport and he was known by managers and players as a fine infielder and hitter, winning many trophies. He also managed men's championship teams, including American Legion in La Plata and Hughesville-Bryantown. After this he began coaching Babe Ruth League (14-16 year-olds) and La Plata Reds Little League. They too, benefited from his love of the game. After retirement, he began working daily crossword puzzles and the Wednesday (Maryland Independent) crossword puzzles. He loved the challenges of words.

He is predeceased by his parents, Albert Leo Elder, Sr. and Genevieve Hayden Elder and his siblings, Alma Maddox, Cordelia Wentzell, Albert L. Elder, Jr., and Theresa Dyer. In addition to his wife Dolores, he is survived by his children, Stephen G. (Janice Bowie), Elaine M. (J. Wayne Welsh), and John F. (Christina Lagos); his grandchildren, David S. Elder (Casey), Jennifer Elder (Ward Heise), Melanie Brown(Kevin), Kristin Arends (Devin), John F. Elder Jr. (Melissa), and Irene Elder; his great-grandchildren, Tyler Benton, Riley Elder, Nicole Elder, Jacob Elder, Jackson Heise, Brayden, Blair, and Luke Arends, Erin and Sydney Brown, and Natalie and Brady Elder; his siblings, Agnes Nash, Patricia Tyler, Robert Elder, Alan Elder, Sister Nancy Elder IHM, Diane Bowling, and Amy Doutt.

Friends received on Friday, August 19, 2016 from 6-8PM with Wake Service at 7PM at Raymond Funeral Service Chapel, 5635 Washington Avenue, La Plata, MD 20646. Mass of Christian Burial on Saturday, August 20, 2016 at 10:30AM at Sacred Heart Catholic Church, 201 St. Mary's Avenue, La Plata, MD 20646. Interment will be private.

Pallbearers are his nephews, Joe Bowling, Brian Dyer, Kevin Elder, Don Goldsmith, Larry Goldsmith, and Hoover Thompson. His nephew, Allen Gardiner, will be the soloist. Memorial contributions in Dutton's name may be sent to College of Southern Maryland Nursing Program in gratitude for professional and loving care he received at the University of Maryland Charles Regional Medical Center (La Plata, MD). Arrangements by Raymond Funeral Service.