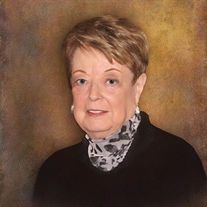 Susan Marie (Green) Hildner, of Port Tobacco, MD, devoted wife, mother, and grandmother, died on August 14, 2016, as a result of injuries sustained in an automobile accident. Susan was born and raised in Queens, NY where she met her future husband, Robert Hildner, a graduate of Fordham University. Sue dedicated the first 20 years of her marriage to raising her family as a supportive Air Force spouse, living in postings around the world and the US, most recently in Northern VA.

Susan obtained her undergraduate and Master's degrees in Public Administration at Auburn University in 1980 and subsequently began work in the Department of Defense as a Contract Specialist intern at the Naval Air Systems Command in Arlington, VA where she progressed to become the Lead Contracting Officer. She then moved to the Pentagon where she ultimately earned a senior position in Program Acquisition and International Contracting. Susan was selected as a member of the Senior Executive Service in 2007 as Deputy Director, Contract Policy and International Contracting.

Susan was awarded the Secretary of Defense Medal for Exceptional Civilian Service, the Department of the Navy Meritorious Civilian Service Award, and two Navy Special Act Awards. When she retired in May 2014, Susan had been in Federal Service for 34 years.

Susan loved to paint, sew, and garden. She was beloved by many because of her generous heart and loving personality. Susan is survived by one son, Steven Hildner of Fairfax, a daughter Elizabeth Edwards of Port Tobacco, five grandchildren and four great grandchildren. She is predeceased by her husband Colonel Robert E. Hildner, USAF, and son Brigadier General Terence John Hildner, US Army.

Friends received on Thursday, August 25, 2016 from 5-8PM with a Prayer Service at 7PM at Raymond Funeral Service (La Plata, MD). Mass of Christian Burial will be held on August 26, 2016 at 10:30AM at Sacred Heart Church (La Plata. MD). In lieu of flowers, the family asks that donations be made to the Brigadier General Terence John Hildner Memorial Scholarship fund at Notre Dame. To make donations, please go to www.bgterencehildnerfund.org. Arrangements by Raymond Funeral Service.