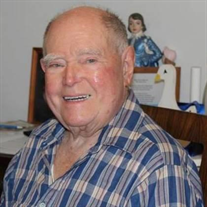 Robert Lee Grazier, Sr., 87 of Pomfret, Maryland, passed away suddenly on August 10, 2016. Born on August 27, 1928 in Edwardsville, Illinois he was the son of the late George Henry Grazier and the late May Briddick.

Known to his friends as Bob, he worked in the automotive radiator repair business and owned Camp Springs Radiator Service for 28 years before retiring in 1985. He was a devoted husband and father and an Air Force veteran from the Korean War. He loved camping, gardening, spending time with his children and grandchildren, and participating in church activities. He was a longstanding member of Whitehall Baptist Church in Accokeek, MD.

He is survived by his children Robert (Cathy) Grazier, Jr., of Englewood, Florida, Martie McKenzie and Judy Rice, both of Waldorf, Sharon Grazier of Arlington, Virginia and Kenneth (Katie) Grazier of Lusby; five grandchildren; four step-grandchildren and nine great grandchildren. He is preceded in death by his beloved wife, Frances, his parents, five brothers and four sisters.

Friends received on Wednesday, August 17, 2016 from 2-4PM and 6-8PM at Raymond Funeral Service Chapel, 5635 Washington Avenue, La Plata, Maryland 20646 and on Thursday, August 18, 2016 from 10AM until time of Funeral Service at 11AM at Whitehall Baptist Church, 1205 Farmington Road, East, Accokeek, MD. 20607. Interment to follow at Trinity Memorial Gardens, 3221 Mattawoman-Beantown Road, Waldorf, Maryland 20601. Memorials are requested to the American Heart Association www.heart.org. Arrangements by Raymond Funeral Service.