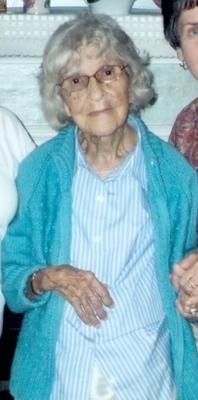 Miriam Matthews Cappers, 102, of La Plata, MD passed away on August 9, 2016 at her home, The Hermitage in La Plata, MD. Born on November 28, 1913 in La Plata, MD at The Hermitage, she was the daughter of the late Francis Brooke Matthews and the late Anne Causine Jones Matthews. She is also predeceased by brothers, James F. Matthews, George H. Matthews and Brooke Matthews, Jr.; and sisters, Sister Frances Anna Matthews, Laura L. Matthews, Catherine M. Mastin, Anne M. Hooper, Leila M. Mohler and Mary Clare Matthews.

Miriam's ancestors arrived in the United States with the early settlers and played a part in the settlement of Maryland. She was a direct descendant of Thomas Matthews, who reached Maryland in 1636. He guarded the property during the suppression of the Society of Jesus. In his memory, a tablet was placed at St. Ignatius Church, Chapel Point. Miriam was also a collateral descendant of three Carmelite nuns who established the Monastery at Mt. Carmel in Port Tobacco, MD. They were the first group of religious women from the 13 original colonies.

Miriam married the late William F. Cappers, Jr. in 1959. She was employed as an Administrative Assistant with the Federal Government at the Dept. of Justice in Washington, DC. Miriam was a charter member of the Restorers of Mount Carmel of Maryland and also a member at Sacred Heart Sodality and Lords at the Maryland Manor. She was also a recipient of the Sacred Heart Merit Award in 2007.

Family will receive friends on Sunday, August 14, 2016 at her home, The Hermitage, 309 Washington Ave., La Plata, MD from 4PM to 7PM. A Mass will be held on Monday, August 15, 2016 at 10:00AM at Sacred Heart Catholic Church, 201 St. Mary's Ave., LaPlata, MD; Burial to take place at St. Ignatius Catholic Church Cemetery, Port Tobacco immediately following.

Pallbearers are: George H. Matthews, III, James Brent Hooper, Jr., John G. Mohler, Jr., F. Brooke Matthews, Scott Burroughs and James Walker, Jr. In lieu of flowers, donations in Miriam's memory can be made to Restorers of Mount Carmel, Ann Clark Memorial Chairperson, 7650 Possum Trot Pl., La Plata, MD 20646. Arrangements by Arehart-Echols Funeral Home.