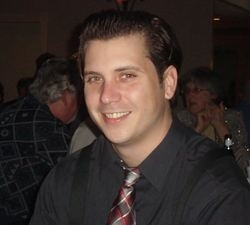 Eric Stuart Risbon passed away unexpectedly Sunday August 7th 2016, he was 34 years old. He was born in Horsham, Pennsylvania on August 22, 1981 to Thomas and Cathy Risbon.

Eric graduated from Leonardtown High School and attended the College of Southern Maryland. He was employed as a Welder/machinist for several defense contractors and small businesses.

Eric loved skateboarding from an early age, music, especially punk rock and soul, playing guitar, working with his hands restoring old automobiles, golf, fishing, and spending time in Delaware at the family beach house. He enjoyed playing and watching all sports and especially loved the Philadelphia Eagles. He always had a smile and unique sense of humor. He was very charismatic and left an impression on anyone he met.

Surviving are Eric's Mother, Catherine Risbon, Grandmother, Nancy Toler, Brothers, Ian (Becca) and Ryan. His is also survived by his children Eileen, Jameson and Eric Jr. He also leaves behind an extended family of niece's nephew's Aunts and Uncles, and many close and loving friends. Eric was predeceased by Thomas Risbon, his father, Peter Toler his Grandfather and John Toler his uncle.

Eric's family will receive friends and extended family for a celebration of life service on Saturday, August 13th, 2016 from 3:00 to 5PM at Brinsfield Funeral Home, 22955 Hollywood Road, Leonardtown, MD 20650. In lieu of flowers, please consider donating to a fund for his children C/O Cedar Point Federal Credit Union, more details will be available at his celebration of life service. Arrangements by Brinsfield Funeral Home, P.A.