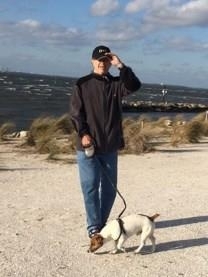 Ronald (Ronnie) Paul Bender, 75, of Waldorf, MD was called home to live eternal life with our heavenly father on August 4, 2016. Ronnie was born on April 13, 1941 and served in the United States Air Force.

He is survived by his loving wife Yanny Bender of 18 years and is preceded in death by his daughter Deborah Slavin. Survived by three grandchildren, Lindsey, Bobby Jo and Dane, two great grandchildren, Mia, Gunner, three brothers, Michael Davis of Stafford, VA, Joe Davis of Ocean City, MD and James Davis of Harrisonburg, VA. Also survived by sisters in law Angelica and Cathy, brothers in law Felipe and Jaco, and several nieces and nephew's and his loving dog Puffy.

Visitation will be held on Friday August 12, 2016 from 9:45 a.m. to 11:45 a.m. at the Huntt Funeral Home located 3035 Old Washington Road Waldorf, MD, where funeral services will follow at 11:45 a.m. Burial will take place at MD Veterans Cemetery, Cheltenham MD. Arrangements by Huntt Funeral Home.