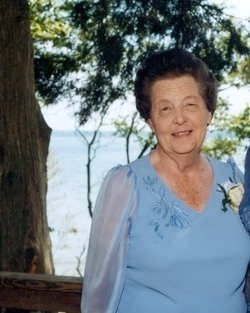 Mary Louise Barber died Sunday, August 7th, 2016, at St. Mary's Hospital. Mary Lou was a proud native of St. Mary's County, daughter of William "Frank" Mattingly, and Mary Thompson-Mattingly. She was the doting older sister of two brothers, Billy and Teeny. She married the late Adams Barber in 1947 and was by his side until his death. She took pride in her longevity, in being the family historian, and thought it a great honor to have lived to see her grandchildren grow and start their own families.

From 1951 she called Stokely Farm home; it was her pride and joy. A school bus driver for 45 years until she was 84 years old, bus diesel ran through her veins. Mary Lou was a founding member of the Country Music Club, and its last surviving original member.

Mary Lou is survived by her three loving children, Alvin Barber and Cindy Morgan of Mechanicsville, and Patricia Lucas of Indian Head, six adoring grandchildren, Jennifer Leonard of Pleasanton, California, Brian Barber and Justin Morgan of Alexandria, Virginia, Mark Leonard, of Marrero, Louisiana, Jeffrey and Jared Morgan, of Mechanicsville, and seven wonderful great-grandchildren.

To have met Mary Lou is to have remembered her. She was a character and a self-professed "tough-old bird." Her passing leaves an unfillable void in the lives of her family and friends but they each take comfort in the many stories and experiences she has left them with.

Visitation will be held at Brinsfield-Echols Funeral Home at 30195 Three Notch Road, Charlotte Hall, MD on Thursday, August 11 from 5:00—8:00 with prayers at 7:00. In lieu of flowers, the family requests that donations be sent to the Margaret Brent High School Alumni Association 21649 Rosalie Way, Leonardtown, MD 20650 for their scholarship fund. Finally, the family asks that in honor of Mary Lou, all who loved her put "Blue Suede Shoes" on the turntable and dance. Arrangements by Brinsfield Echols Funeral Home.