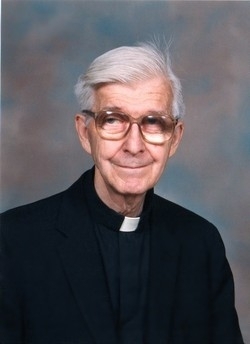 Reverend Monsignor Martin P. Harris passed away on August 6, 2016. He was 92 years old and living in independent retirement in California, MD. Monsignor Harris was born on October 18, 1923 in Little Falls, New York. During World War II he served in the Army Air Corps. He then attended Siena College, Albany, New York before his studies at Christ the King Seminary at St. Bonaventure's University in Olean, New York. He was ordained on June 4, 1955 at St. Matthew's Cathedral.

His first assignment as Parochial Vicar was at Holy Redeemer Parish, College Park and in 1963 he was assigned as Parochial Vicar to Saint Anthony Parish, Washington, DC. He was named Pastor of St. John Parish, Hollywood, Maryland in 1970, from where he retired in 2004. Monsignor Harris was named a Monsignor by Pope John Paul II in 1991. He also served as chaplain of the Knights of Columbus St. John Francis Regis, S. J., Council.

The Vigil will be held on Thursday, August 11, 2016, 3-7 p.m. with a Vigil Mass at 7:30 p.m. at St. John Francis Regis Catholic Church, Hollywood, MD. Donald Cardinal Wurel, Archbishop of Washington, will celebrate a Mass of Christian Burial on Friday, August 12, 2016 at 11:00 a.m. at St. John Francis Regis Catholic Church, Hollywood, MD. Interment will follow in the parish cemetery. In lieu of flowers, memorial contributions may be made to MSGR Martin Harris Scholarship Fund, c/o St. John's Catholic Church, 43900 St. John's Road, Hollywood, MD. Arrangements by Brinsfield Funeral Home, P.A.