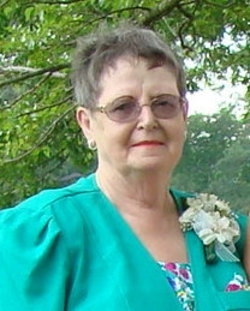 Audrey Louise Burroughs Aud, 75, of Park Hall, MD died August 6, 2016 at her home. She was born September 2, 1940 in Leonardtown, MD to the late Andrew Garner and Mary Ida (Polly) Burroughs. She was the sixth of seven children born. She graduated in 1958 from Margaret Brent High School. On May 23, 1959 she married her beloved husband John M. Aud. Together they celebrated over 57 wonderful years of marriage.

She drove school buses for St. Mary's County on and off for the next 30 years and truly enjoyed the contact she had with the many students she transported. She was a homemaker and enjoyed raising her children and helping out with the grandchildren when needed. She enjoyed playing bingo and going to the casinos, bowling, and playing the Maryland Lottery. Her family remembers most the large dinners she would always fix at Thanksgiving and Christmas. She enjoyed hearing about what family and friends were doing and sharing special times with them.

In addition to her beloved husband, John Matthew Aud of Park Hall, MD she is also survived by her children: Patty Trossbach (Buddy) of Drayden, MD, Donald Aud of Phoenix, AZ, Penny Bailey (Roger) of Mechanicsville, MD, Pam Sidle of Owings Mills, MD and Dennis Aud of Park Hall, MD; her grandchildren: Dawn Trossbach, Amanda Merritt (Robbie), John Francis "Billy" Trossbach, Emily and Mikaela Bailey, Madison and Jack Sidle, and Adia Aud; and her great grandchildren: Jenna Tippett, Isabelle "Belle" and Cole Merritt; her siblings: Harriett Trent and Joe Burroughs; her in-laws: Dorothy Schindler, Frances Trossbach, Edna Trossbach, and Bobbie Johnson; and numerous nieces and nephews.

In addition to her parents, she has gone to join those who went before, siblings: Mary Helen Dean (Aloysius), Virginia "Sissy" Johnson, Andrew "Buck" Burroughs and James "Pudding" Burroughs, and her in-laws: Clarence and Estell Frances Coombs Aud , Matthew Aud, Coombs Aud (Peggy), Thomas Aud, Clarence (Jr.) Aud, Myrtle Abell (Edward), Theresa Trossbach (Alfred), Mary Schindler (Eddie), Marie Trossbach (Otto), Warren Trossbach, John "Stump" Trossbach, William Schindler, Bernice Aud, and Aggie Burroughs.

Memorial contributions may be made to the Hospice of St. Mary's, P.O. Box 625, Leonardtown, MD 20650. Family will receive friends for "Audrey's Life Celebration" on Wednesday, August 10, 2016 from 5:00-8:00 p.m., with prayers recited at 7:00 p.m., at Brinsfield Funeral Home, P.A., 22955 Hollywood Road, Leonardtown, MD 20650. Interment will be private. Arrangements by the Brinsfield Funeral Home, P.A., Leonardtown, MD.