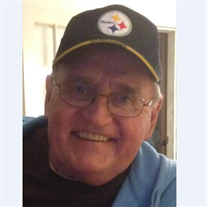 Thomas R. "Tom" Hamorsky, 66, of Port Tobacco, Maryland died August 4, 2016 at his residence.

Tom was a veteran of the United States Air Force, having served from 1968-1972. He was a physical therapist assistant, serving most recently at Sagepoint Senior Living in La Plata and was a member of the Christ Church Vestry in La Plata, Maryland. He loved Pittsburgh Steelers football, golfing, but most importantly being with his family.

He was the son of Joseph Hamorsky and Mary Babincak Hamorsky. In addition to his father, he is survived by his wife of 35 years, Pamela Hamorsky; his sons, Kyle Hamorsky and wife Krystal and Brett Hamorsky; his brother, Ron Hamorsky and wife Jeannie; and his grandchildren, Mylan and Zofie Hamorsky.

Memorial Service on Saturday, August 13, 2016 at 10AM at Christ Episcopal Church, La Plata, Maryland officiated by Rev. Tim Johnson. Arrangements by Raymond Funeral Service, La Plata, Maryland. Memorials are asked to Christ Episcopal Church, P. O. Box 760, La Plata, Maryland 20646 or The American Melanoma Foundation (AMF), 8929 University Center Lane, Suite 202, La Jolla, CA 92122.