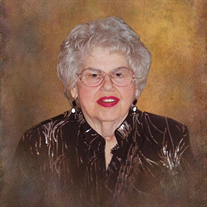 Betty Jane Hobbs Impellizzeri, 88, of Louisville, KY formerly of La Plata, MD passed away on August 4, 2016. Betty was born on April 13, 1928 in Louisville, KY. She was the daughter of the late John E. Hobbs and the late Mary Pearl Brady Hobbs.

Betty was a homemaker until her children were grown. She then became a Financial Counselor for Humana Hospital. She was a graduate of Nazareth College in Louisville, KY. At her 70th Fern Creek High School class reunion, Betty was honored as the event's Guest Speaker. She enjoyed making arts and crafts and was an avid fan of the University of Louisville. She loved vacationing in Ocean City, MD.

She was predeceased by her parents; her late husband of 56 years, Frank Christopher Impellizzeri; one son, David Lindsey Impellizzeri; and one sister, Doris Wiseman. She is survived by one daughter, Kristina Raymond, and her husband Michael, of La Plata, MD; one son, Frank Christopher Impellizzeri of Louisville, KY; and two grandchildren, Michael Raymond, Jr. and Lindsey Raymond, both of La Plata, MD. She is also survived by many nieces and nephews.

Friends received on Wednesday, August 10, 2016 from 5-8pm, with prayers at 6:30pm, at Raymond Funeral Service, 5635 Washington Avenue, La Plata, MD 20646. A Mass of Christian Burial will be held on Thursday, August 11, 2016 at 11am at St. Mary's Star of the Sea Catholic Church, 30 Mattingly Avenue, Indian Head, MD 20640. Interment will follow at Sacred Heart Catholic Church Cemetery, La Plata, MD. Reverend Robert Golas will officiate. Memorial contributions are asked to the Star of the Sea Food Pantry, 30 Mattingly Avenue, Indian Head, MD 20640 or to the Kentucky Sheriff's Boys and Girls Ranch, P.O. Box 57, Gilbertsville, KY 42044. Arrangements by Raymond Funeral Service.