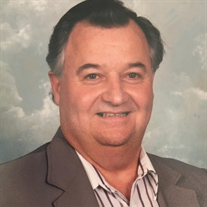 John Leonard Pirner of Prince Frederick, MD passed away on August 5, 2016 at his home surrounded by loving family.

He was a graduate of Gwen Park High School in 1957. He started his career driving a Coca Cola truck and then ventured into working as an Insurance Salesman for many years. During his career, he cared for his wife and five children, as well as serving as an Elder for the Congregation of Jehovas Witnesses in the late 1960's until 1981.

After retirement, he really enjoyed going to a coffee shop in Waldorf, MD where he would gather with good friends. His presence will be greatly missed. He had an unforgettable smile that friends adored, along with a witty personality that kept everyone laughing. All and all, he was a big softie inside that loved his family beyond recognition.

John was the beloved husband to the late Barbara Pirner, loving father to Donna Lynn Richardson, Yvonne Kimberly Sens, Zanita Colleen Pirner, Rachel Anne Pirner and the late John Wayne Pirner. He is survived by his dear friend Lucy Stonestreet, sister, Betty Beswick, 12 grandchildren; Peter Ross, Erica Nolan, Laura Ross, Zachary Ross, Charlie Sens, Erin Sens, Natalie Pirner, Chase Barber, Jordan Pirner, Cameron Mackall, Darren Pirner and Gregory Pirner and 10 great grandchildren. He was preceded in death by his brothers, George Pirner, Jr., Donald Pirner and Jack Pirner. Arrangements by Lee Funeral Home.