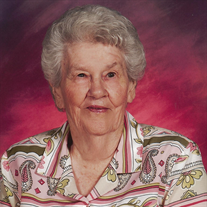 Mary Estelle Moreland (Williams) Canter died August 4, 2016 at Genesis Healthcare in Waldorf. Mary was born January 1, 1920 to the late Elzear and Catherine Burch Moreland. She was born in a house on Maxwell Hall Farm in Benedict, Maryland. This house is on the National Register of Historic Places having been rumored as an encampment for the British in the War of 1912. She graduated from Hughesville High School in 1938.

She was married to the late Andrew Peter Williams until 1974. She was predeceased by her sons Leonard Joseph Williams, Andrew Peter Williams Jr. and daughter, Patricia Ann Hintze. Along with her children, she was predeceased by her Moreland siblings; Robert, Roy, Russell, Arthur, Elmer, Roger, Harry, Andrew, Cecelia, Anne, and Thelma Sullivan.

Mary worked for the Waldorf Post Office for 23 years. Prior to working for the Post Office, she spent her life farming and caring for her family. She belonged to the Waldorf-La Plata NARFE Chapter 1972 and was treasurer for at least 10 years. She was a devout member of St. Peter's Church in Waldorf for approximately 70 years. She was very knowledgeable in family history and many people contacted her for this information. Although Mary's hobby was playing bingo competitively, that did not prevent her from helping others to play the game as well. Her favorite number was O-75. Mary was an excellent cook and loved to bake; she was well known for her delicious German chocolate cake. Mary will always be remembered as a generous person and loved by many.

Mary is survived by her daughters, Dorothy Vernon and Theresa Norris along with her son-in-laws Randy Norris (who spent countless hours with her which she enjoyed immensely) and Adolf Hintze; her grandchildren, Susan Howell (Thomas), JC Leavy (Anna), and Josh Leavy (Marlene); her great-grandchildren, Brittany Klock (Stevie), Melanie Melvin (Andrew), Jarrett Leavy, Camryn Leavy, Skye Leavy; and great-great-grandson, Brayden Klock. Additionally, Mary is survived by many nieces and nephews.

Friends received on Thursday, August 11, 2016 rom 2-4PM and 6-8PM with Prayers at 7PM at Raymond Funeral Chapel, 5635 Washington Avenue, La Plata, Maryland 20646. Mass of Christian Burial on Friday, August 12, 2016 at 11AM at St. Peter's Catholic Church, 3320 St. Peter's Drive, Waldorf, Maryland 20601. Interment to follow at the church cemetery. Pallbearers will be JC Leavy, Josh Leavy, Jarrett Leavy, Stevie Klock, Andrew Melvin, and Thomas Unkle. Memorial contributions in Mary's name may be sent to St. Peter's Church, 3320 St. Peter's Drive, Waldorf, Maryland 20601-2359. Arrangements by Raymond Funeral Service.