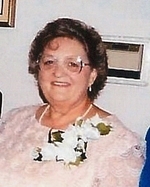 Joan Ritchie Higgs, 78, of Compton, MD formerly from Cherry Grove, VA passed away on July 31, 2016 in Leonardtown, MD. Born on August 19, 1937 in Cherry Grove, VA she was the daughter of the late Eula Catherine Showalter Ritchie and Ralph Raymond Ritchie. Joan was the loving wife of the late John Leon Higgs Jr. whom she married in King George, VA and who preceded her in death on August 11, 2004.

Joan is survived by her children: Belinda Copenhaver (John) of California, MD, J.L. Higgs (Jill) of Hollywood, MD, Grandchildren: David Adams, Joseph Adams, Brooke Higgs, Abby Higgs, Crystal Johnson (Brithon), Nick Copenhaver (Lauren), Heather Pinkel (Adam), Rachel Reeder (Blake), Emily Crocker (Jon), Michael Copenhaver, and several great grandchildren. Siblings: Dorothy Shipp (Wallace) of Broadway, VA, and Louise Bennett (Emanuel) of Brandywine, WV. She was preceded in death by her siblings: Raymond Ritchie, Lawrence Ritchie, Lynwood Ritchie, Charles Ritchie, Catherine Graham, Charlotte Miller and Maurice Ritchie.

Joan was a lifelong St. Mary's County, MD resident, and worked as a restaurant manager for 35 years at the Belvedere. She was a member of the Esperanza Bowling League on Friday night. She also liked playing pitch, cooking, and going on Casino trips. Joan enjoyed picking crabs to make her famous crab cakes and crab balls, enjoyed by everyone, and loved spending time with her family.

The family will receive friends on Saturday, August 6, 2016 from 9:00 AM - 10:00 AM. A Funeral Service will follow at 10:00 AM with Rev. Kyle Squires officiating. Interment will be private. Contributions may be made to Southpoint Church P.O. Box 2207 Leonardtown, MD 20650. Arrangements by Mattingley-Gardiner Funeral Home.