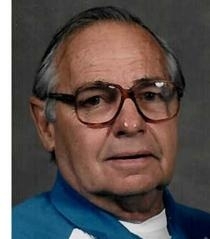 Clarence Ray Galentine of White Plains, MD passed away peacefully at his home on August 1, 2016. Clarence was born on November 2, 1924 in Greensburg, Pennsylvania to Homer P. and Estella N. Galentine.

Clarence served in the U.S. Navy during World War II as an aviation crew chief aboard the USS Savannah. Clarence owned and operated R&S Contractors, Inc. with his sons, Ron and Scott, building custom homes and commercial buildings until his retirement in 1989.

Clarence is preceded in death by his wife, Helen C. "Cassie" Galentine; grandson, Richard F. "Little Ricky" Galentine; his parents; seven brothers and two sisters. He leaves behind his sister-in-law, Dorothy Hurlburt; his children: Ronald R., Michael S. (Penny), Richard J., Tina M. Swann (Skip), and Carol D. Jones (Glenn); four grandchildren; seven great-grandchildren; and many nieces, nephews, great-nieces, great-nephews, extended family and friends.

Cremation services are being handled by Arehart-Echols Funeral Home, P.A. in La Plata, MD. Interment will be at Arlington National Cemetery at a later date. In lieu of flowers, the family requests that donations be made in memory of Clarence to "Hospice of Charles County, Inc.", 2505 Davis Road, Waldorf, MD 20603.