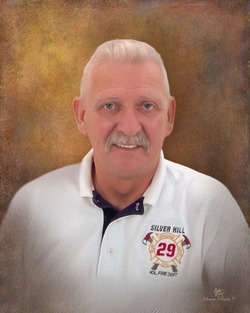 George Milton "Mickey" Thompson, 69, of Mechanicsville died August 2, 2016 surrounded by his family. Born July 18, 1947 in Washington, D.C., he was the son of the late George E. Thompson and Margaret T. Flaherty Thompson of Silver Hill, MD. He was the husband of Donna Foy Arbaugh Thompson whom he married on November 8, 2013. He was preceded in death by his previous wife, Jean Ann Boteler Thompson, his parents and his brother, Matthew A. Thompson.

He is survived by his children, Karen Thompson Boecher and Sharon Thompson, both of Mechanicsville; his grandchildren, Mackenzie, Garrett and Gavin Boecher (plus many other children, grandchildren, nieces and nephews by marriage). In addition, he is survived by his sister, Margaret I. Brown, of Charlotte Hall.

He moved to St. Mary's County in 1975 from Silver Hill. He served in the U.S. Army from November 1966 to November 1972 and during this time he served as a Medic in the Vietnam War. He was employed by the U.S. Government at Fort Myer Fire Department, Arlington, VA for 30+ years, retiring as Assistant Chief. He was a life-long volunteer/member of Silver Hill Fire Department for 53+ years and actively served as the Chief. His passion was to fight fires and save lives.

He looked forward to spending time with his family and his Fire Department "Brothers". He loved the summer and sunshine. His favorite pastimes were spent at family gatherings or at the beach; and in recent years, he loved traveling once or twice a year on luxury cruise ships. He took 16 cruises over the last 8 years.

The family will receive friends Friday, August 5, 2016 from 2-4 pm and 6-9 pm with Firemen's Prayers at 7:30 pm, at Brinsfield-Echols Funeral Home, P.A., 30195 Three Notch Road, Charlotte Hall, MD 20622. A Mass of Christian burial will be held at Immaculate Conception Church, 28297 Old Village Road, Mechanicsville, MD 20659 on Saturday, August 6, 2016 at 10 am. Interment will follow at Resurrection Cemetery, 8000 Woodyard Road, Clinton, MD 20735. In lieu of flowers, memorial contributions in Mickey's name may be made to: Silver Hill Volunteer Fire Department, 3900a Silver Hill Rd., Suitland-Silver Hill, MD 20746. Arrangements by Brinsfield-Echols Funeral Home.