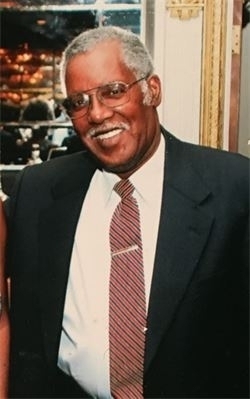 James Bernard Coates, born September 8, 1936 played his last note on July 26, 2016 just 44 days shy of his 80th birthday. A gifted saxophonist, he organized, managed and performed with the Rhythm Rockers and The Untouchables, touring throughout the east coast and backing up artists such as James Brown, Fats Domino and others.

After graduation from Pomonkey High School in the class of 1954, James attended Atlantic Business College and received his Certificate of Completion. For the next 23 years he worked as a proofreader and compositor for the US Government Printing Office. He was a man of many trades, including being a licensed plumber. He could fix anything. After leaving the GPO he became a Co-Owner of Coates Associates, and along with wife Veronica became a very successful business entrepreneur and earned free cars and trips all around the world.

James' love of music was so strong that he formed a band called The Funky Neighbors with the neighborhood kids. He took out a loan, bought all the instruments, and taught them all how to play. His legacy continues still today. One band member quoted, "He treated me just as he treated his own. The reason that music is such a part of my life is largely attributed to your Dad." James was also a member of the St. Joseph's Gospel Choir, and a pivotal part of the musical production "Gospel Roots".

National news was a vital part of his life, and he faithfully watched the political news shows. He also loved boating, fishing, crabbing, and spending time at his beach in Annapolis, MD. James was an avid sports fan, and loved his Washington Redskins (sorry Dallas!). You could often find him watching a game in his garage while tinkering with his tractors, cars and motorcycles.

He was preceded in death by his father, James Cephas, his mother, Margaret Swann, his Uncle Tillman Swann who was like a father to him, and his beloved sister Mary. James is survived by his wife of 59 years, Veronica, and his devoted brother Russell (Annette). He was so proud of his kids and grandchildren: son Kevin (Thomasina), daughter Gail; grandchildren Shawn Coates, Alisha Coates, Ashley Kimbrough (Ashton), and Brittany Coates; great-grandchildren Lyric, Aidan, Kapree, and another on the way.

James also leaves to cherish his memory: devoted cousin Lawrence Brawner, sister-in-laws Peggy Burthey and Cynthia Shaw, brother-in-law Russell Johnson (Dazzell), and a host of nephews, nieces, relatives and friends. He discovered his wonderful Cephas family in Federalsburg, MD later in life, including: sisters Rosetta, Karen and Augusta; brother James, aunts Pauline, Anna, Mildred; and uncles Leroy and Soloman.

Visitation will be held on Monday, August 1, 2016 at at St. Joseph Catholic Church 4590 St Josephs Way, Pomfret, MD 20675 from 10:00 a.m. until 10:45 a.m. with Mass of Christian Burial at 11 a.m. Interment Church Cemetery. Arrangements by Adams Funeral Home.