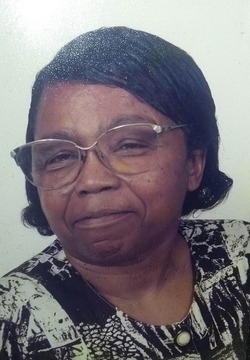 Anna Louise Baker, "Mama," 82, of Leonardtown, MD quietly departed this life July 26, 2016 at her home surrounded by her loving family. Anna was born on October 9, 1933 in Budds Creek, MD to the late Andrew Sylvester Bush and Bernadine E. Fenwick.

Anna received her education in St. Mary's County Public School system. She married the loved of her life, the late George French Baker, Sr. They were blessed with 12 children, and three step children, which she loved and treated as her own.

She was employed by St. Mary's Academy for several years. She stopped working to take care of her family, including her brothers and sisters. She loved to cook, and was known for preparing delicious meals, including stuffed ham, yams, potato salad, and yeast biscuits. She was devoted to the Lord and practicing her faith. She spent many hours involved in church activities and retreats.

She enjoyed shopping, with her favorite pastime being shopping at the local thrift stores and the Family Dollar store, to spend her last dollar. Her favorite television shows were, Wheel of Fortune, Jeopardy and QVC, and you better not change her channel or she would immediately tell you to turn it back in her quiet, mean voice. Her greatest love was spending time with her family, especially her grandchildren, who could do no wrong.

Anna leaves to cherish her loving children: Tilda Mae Foster, Shirley A. Bush, Anna M. Davis (Ronald), Angela D. Thomas (Marshall), Tonya P. Baker, Sharon R. Ball, (James), Bernice B. Courtney (James), George F. Baker, Jr., Joseph I. Baker (Ernestine), Francis D. Baker (Gogia), Andrew S. Baker (Monica), Patricia M. Tyer (DeSales), George R. Reeves (Althea); her siblings: Della Smith, Pauline Bush, Clarise Young, Benny Bush, Margaret Moore, George Bush, Clarence Bush, John Bush, Tommy Bush, Leroy Bush, and Cleveland Fenwick; 46 grandchildren; sister-in-law, Dorothy Baker; a brother-in-law, David Baker; 34 great grandchildren and one great-great grandchild.

In addition to her parents, she is also preceded in death by her husband, George French Baker, Sr., her daughter, Ethel Baker; her son, Reginald A. Reeves; and her siblings, James A. Bush, Martha M. Carter, Helen J. Cole, and Arline Bush.

Family will receive friends for Anna's Life Celebration on Thursday, August 4, 2016 from 11:00 to 12:00 p.m., with a Funeral Service celebrated by Bishop Daniel Jones of St. Matthews Free Gospel Church at 12:00 p.m., at the Brinsfield Funeral Home, P.A., 22955 Hollywood Road, Leonardtown, MD 20650. Interment will follow at 2:30 p.m. at Maryland Veterans Cemetery, 11301 Crain Highway, Cheltenham, MD 20623. Arrangements by the Brinsfield Funeral Home, P.A., Leonardtown, MD.