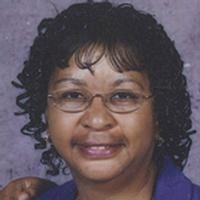 On July 22, 2016, Margaret Victoria Elizabeth Jackson peacefully transitioned into eternal life at her home in Pisgah, Maryland. Margaret, affectionately called "Mouse," was born May 16, 1946 to George and Lydia Keys in Waldorf, Maryland. She was educated in the Charles County school system and graduated from Pomonkey High School with the class of 1964.

On December 21, 1968, Margaret married her neighborhood friend, Thomas "Francis" Jackson and from that blessed union one son and two daughters were born. Margaret enjoyed 53 years with her beloved husband. Her husband, family and church family had the most influence in her life.

Margaret's greatest traits were her courageous and persevering nature and wisdom. She was a faithful, strong, dependable and loving lady who always said "No matter what you do, do your best, just do the right thing." She was known and loved for her quiet demeanor and no-nonsense approach to life. She appreciated life and was not a fan of complaining. She would often say "Give God the Glory!"

Margaret loved the holidays, especially Thanksgiving and Christmas because she would be surrounded by her children, grandchildren and friends. Margaret attended Zion Baptist Church for many years and served as an Usher. She would want to be remembered as a good and faithful servant of the Lord. Her greatest interests were in her family, flowers and church. She loved being outside caring for her beautiful flowers, planting vegetables, grilling, taking long walks, or just sitting under a shade tree. Her hobbies were cooking, shopping and spending time with the grandchildren.

Margaret was employed by the Naval Surface Warfare Center as an Explosive Worker for over 30 years. She retired August 2011.

Margaret was preceded in death by her parents, sister, Mary Johnson, brothers, Harrison Keys, Harris Keys and John Keys. She leaves to cherish fond memories, her beloved husband, Thomas, Sr., son, Thomas, Jr., daughters, Tracy Jackson, Lesley Jackson, (like a daughter) Beverly Keys and (god daughter) Joanne Simmons; grandchildren, Clyde Williams "Donzell," Cierra Wilson, DeShawn Jackson and Alysa Jackson; sisters, Ruth and Sylvia Keys; brothers, Thomas, Carroll, Jeffery and Gary Keys; sisters-in-law, Belinda Brown, Inez Keys, Maggie Keys, Thea Keys, Peggy Keys, Sylvia Keys and Verna Bannister; aunts, Nellie Keys and Madeline Ford; nieces and nephews, Perette Johnson, Jr., Gary Keys, Jr., Eric Keys, Brandon Keys, Brent Atwater, Tasha Barnes, Thomas Keys, Jr., Joy Keys, Tinnelle Keys, John Keys, Yvonne, Linda, Brenda, Harrison, Eugene, Melvin, George and a host of other relatives and friends.

Margaret held a special place in her heart for Theresa Carter, Adelia and Dewitt Bennett, Joyce France, Michele Donavien, Jana, Howard, Judy Donver, Melissa Proctor, LaShawn Boldman, Rosie Carroll, Christine White, Hazel Ward, Tyrone Ross, James and Helen Adams and the Washington, Harvey and Thomas families.

Her viewing will be held from 9am until time of service 11am on Saturday, July 30, 2016 at Zion Baptist Church, 8105 Annapolis Woods Road, Welcome, Maryland 20693. Arrangements by Thornton Funeral Home.