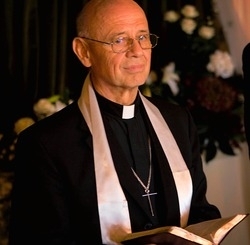 Joseph Hamlin Dobson IV, resident of Piney Point, entered life eternal on Saturday, July 23rd, at the age of 75. He was born in Washington. D.C., October 21, 1940 to the late Joseph H. Dobson III and Bertha L. Dobson. He was graduated from Gaithersburg High School in 1958, and from American University in 1967. He was married to Kathy Kilby in 1961 and had 3 children: Cinde, Beth and Jody.

Known to friends and family as "Little Joe," "Joe," "Joseph," "Father Joe", and "Bishop Joe," he was an IBM-er turned entrepreneur. The family relocated to Lexington Park in 1972, where he co-founded and managed Loffler Marine. In 1987, he married Linda Tharp Fuchs, and in the early 90s, he left the marine industry to become the Administrator at Cedar Lane Apartments in Leonardtown, where he served for 13 years.

During this time, Joseph also served as a chaplain at St. Mary's Hospital and with St. Mary's Hospice, ministries he was passionate about. In 2004, he became "Father Joe" and went into full-time ministry with the United Episcopal Church of North America, where he was consecrated a Bishop and continued to serve until 2013. Joseph enjoyed hunting, fishing, and boating, but mostly he loved serving others.

He is survived by wife, Linda, brother, Michael, children, Cinde, Beth, and Jody, and 1st wife, Kathy. He is also survived by 3 stepchildren, Jonathan, Michael, and Jessica, 9 grandchildren (Benjamin, Bryan, Caroline, Jacob, Jackson, Jonathan, Jakob, Seth and Zach), and numerous nieces and nephews.

Family will receive friends for Joseph's Life Celebration on Thursday, July 28, 2016 from 6:00 to 8:00 p.m. at Brinsfield Funeral Home, 22955 Hollywood Road, Leonardtown, MD 20650. A Memorial Service will be held on Saturday, July 30, 2016 at 11:00 a.m., at Brinsfield Funeral Home. Inurnment will be private. Memorial contributions may be made to Hospice of St. Mary's, P.O. Box 625, Leonardtown, MD 20650. Arrangements by the Brinsfield Funeral Home, P.A., Leonardtown, MD.