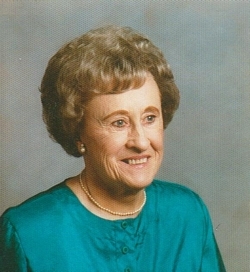 Catherine Pardoe Trueman, of Lusby, Maryland passed away at the age of 99 on July 23, 2016 at the Taylor Farm Assisted Living in Bushwood, MD. Catherine was the daughter of Lawrence and Anna Pardoe, born on June 24, 1917 in Island Creek, MD.

She grew up on a tobacco farm with her two younger brothers, Roland and Lawrence. Catherine attended school in Calvert County and graduated from Towson State College in 1932. She started her teaching career in Solomons and eventually moving to Glen Burnie, she retired after 40 years. She enjoyed teaching first grade the most where "she could give them a good start".

In her retirement, she spent her winters in Florida where she always welcomed friends from "up north" to come and visit. And if they liked to play games, they were encouraged to stay even longer. She loved all kinds of board games, and cards, especially Canasta and Bridge, even through her 80's. Another passion was traveling, where she was able to visit over 20 countries. She was a member of Waters Memorial United Methodist Church throughout her life. Even in her declining years of health, she was heard Praising her Lord and would often give the blessing at mealtime at Taylor Farm.

In addition to her parents, Catherine was preceded in death by her former husband's, Gordon Trueman and Kermit Galford, as well as her brother Roland Pardoe, of Severna Park, Md. She is survived by her brother Lawrence Pardoe, Jr. of Pasadena, MD, her daughter Kay and husband Larry Foreman of Lusby, and her son Harry Trueman and wife Marian of St. Leonard, MD. She has 5 grandchildren and 5 great grandchildren.

The family would like to give a special thanks to the dedicated people who cared for Catherine at Asbury of Solomons and Taylor Farm.

The family will receive friends on Wednesday July 27, 2016 from 11-12 Noon at Waters Memorial United Methodist Church, 5400 Mackall Rd, St. Leonard, MD, where services will follow at 12 Noon. Interment will be in the church cemetery. In lieu of flowers, memorial contributions may be made to Waters Memorial UMC. Arrangements provided by Rausch Funeral Home.