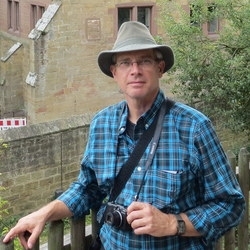 Robert (Bob) Wesley Boyd Jr., 68, passed away peacefully on Wednesday, July 20, 2016 at Georgetown University Hospital in the arms of his loving family. Bob was born September 20, 1947 in Roanoke, Va. to Robert and Dorothy Robelen Boyd.

After attending William Fleming High School, Bob went on to Virginia Tech where he graduated in 1969 with an Aerospace Engineering degree. On April 29, 1972 Bob married Karen Leigh Wright and they shared 44 beautiful years in both heart and mind. In June of 1979 Bob and Karen had a wonderful son, Wesley Woodson Boyd.

Since childhood Bob was fascinated by airplanes. He pursued this passion for almost 50 years as an Aerospace Engineer at Pax River. He attended the US Navy Test Pilot School and was Test Pilot Engineer of Class 69. His early work included projects with the A-4 Skyhawk, A-6 Intruder, and F-14 Tomcat. Later in his career he was one of the first engineers to work on drones, culminating his career when his last project, the X-47A Pegasus, was successfully launched and recovered from an aircraft carrier. With this milestone complete, Bob retired and began to focus on his other passions: music and travel.

Music was a great love of Bob's since childhood. He sang with St. Maries Musica, Southern Md. Light Opera Company and the Chesapeake Swing Band, where he also played saxophone. Over the years Bob traveled extensively across the globe, enjoying many trips with his family throughout Europe.

He is survived by his wife, Karen of St. Mary's City, MD and son Wesley and spouse Dawn of Wiesbaden, Germany, sister Dorothy Bunny Bowen and spouse Leland of Placitas, New Mexico and two brothers, William and spouse Gina of Seattle, Washington, and Richard and spouse Dreama of Roanoke, Virginia. Also, two much loved nieces and one nephew.

Family will receive friends on Wednesday, July 27, 2016 at 11 am at Trinity Episcopal Church, 47477 Trinity Church Road, St. Mary's City, MD 20686 with a Memorial Service celebrated by Reverend John A. Ball at 12:00 p.m. Interment will following in the church cemetery. A reception will follow at Trinity Church Parish Hall. In lieu of flowers, donations may be made to St. Maries Choral Arts via their website: www.smchoralarts.org/ or at 46516 Short Acres Lane, Lexington Park, MD 20653. Arrangements provided by Brinsfield Funeral Home, P.A., 22955 Hollywood Road, Leonardtown, MD 20650.