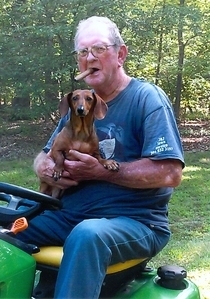 Joseph Lee Padgett Jr., 72, of La Plata, Md. died on July 20, 2016 at his home. Joe was born in La Plata, MD on August 2, 1943 to Lillian I. Padgett and the late Joseph L. Padgett, Sr. He loved a good cigar and was a member of the McDonald's morning coffee club.

He is survived by his loving wife, Leslie Jo Padgett; sons, Christian L. Padgett, David L. Padgett, and Andrew L. Padgett; brothers, William "Bill" Padgett, Bobby Padgett; sister, Brenda Padgett-Ladd and is an uncle of 9.

The family will receive friends on Tuesday July 26, 2016 from 9 AM until service time at 10 AM at the Arehart-Echols Funeral Home, La Plata, MD. The interment will be at a later date. If you wish memorial donations may be made to the American Diabetes Association P.O. Box 11454 Alexandria, VA 22312 or diabetes.org. Arrangements by Arehart-Echols Funeral Home.