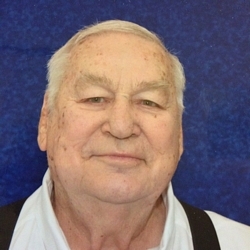 Clyde Leroy "Roy" Tucker, 80, of Venice, FL succumbed to cancer on Saturday, July 16, 2016 at Tidewell Hospice in Sarasota, FL. Born December 5, 1935 in Hollywood, MD he had been a resident of St. Mary's County, and was employed as a steamfitter, serving as a member of union local 602, and as a construction estimator and supervisor in the Public Works office at the Patuxent River Naval Air Station, until retiring to Venice, FL.

He is survived by his wife, Phyllis Tucker of Sarasota, FL: daughter, Cheryl (Tommy) Baez of Haines City, FL; son, Keith (Julie) Tucker of New Market, MD; brother, Alan Tucker of Inman, SC; sisters Darlene Guyther and Max McConnell, both of St Mary's County; 2 grandchildren and 7 great-grandchildren. He is predeceased by his parents, Irvin and Margaret Tucker; sister, Phyllis Rodgers; and brother, Irvin "Junior" Tucker.

Roy was in the U.S. Army during the Korean conflict, serving in the Medical Detail as an Orthopedic Technician. Known for his jokester personality and infectious smile, he leaves behind many friends. He enjoyed playing games on his iPad, daily breakfast at Bob Evans, and woodworking. When asked "how are you?" his answer was always "fat and nasty as ever." Portly, perhaps, but he was never anything other than kind.

Friends and family who wish to make a contribution in his honor are encouraged to consider donating to Tidewell Hospice (http://tidewell.org), which provided him great care over the last few months of his life.