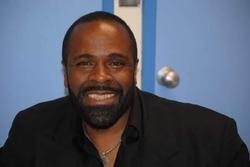 Gregory Nathaniel Newberry Sr., passed away on July 17, 2016 at his residence in Charlotte Hall, MD. Gregory was born in Washington, D.C. on November 21, 1957 to the late Hudson N. Newberry and the late Rosa Lee Pendelton. He was a graduate of Spingarn HS & Howard University. He retired as an Army Officer.

He enjoyed traveling, riding horses, playing cards and all games of chance, dancing, singing, writing songs, listening to all genres of music, relaxing in the hot tub, shooting hoops, driving his convertible Mercedes SL500, cracking jokes, hosting pig roasts and entertaining friends and family at home, remodeling the house, fixing things for others - using "MacGyver" out-of-the box problem solving solutions, making people feel special and that what they said and thought truly mattered. He loved spending quality time with all his family members. His grandchildren were the light of his life and brought him so much laughter and joy!

In addition to his parents, he was predeceased in death by five sisters and five brothers. Gregory is survived by his loving wife, Julie Mills; sons, Gregory Newberry, Jr., Jerome Newberry, Ian Emes; daughters, Rosa Newberry, Elizabeth Somerville; grandchildren, Zaakiyah Boyd, Janae Perez, Kamyrn Somerville, Seantel Somerville, Athena Beagle, Quran Gray; brothers, Frank Bell, William Newberry, Samuel Newberry, Anthony Davis; sisters, Mary Bell, Tillie Jackson, Augusta Jackson, Barbara Blue, Rev. Johanna Green; surrogate father, Robert Davis; mother-in-law, Geneva Hudson; sister-in law, Mira Mills and MANY nieces, nephews, cousins and friends.

Family will receive friends for Gregory's Life Celebration Ceremony on Saturday, July 23, 2016 from 10:00 am to 11:00 am at Brinsfield-Echols Funeral Home P.A, 30195 Three Notch Road, Charlotte Hall, MD 20622. A Time of Remembrance Service will begin at 11:00 PM. Private Internment. In lieu of flowers, memorial/tribute donations may be made to: SOME (So Others Might Eat) 701 O Street, NW Washington, D.C. 20001. Arrangements by Brinsfield-Echols Funeral Home.