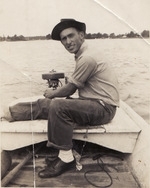 John Howard Gass, known as Papa, Pop Pop, and Johnny was born in Avenue on December 18, 1924. He was a lifelong St. Mary's county resident. As a young man he worked as a waterman, he worked on the Wilson Line, and worked as a Painter.

Family was important to Johnny and he enjoyed many years with his extended family. Johnny and his wife Sis loved children in addition to having a daughter and son they were foster parents.

He grew up in Avenue, MD. He built his own house at the age of 26, which he continued to live in until the present. His grandson Chuckie has lived with him since he was young. Dawn joined him in the household in 2000, then Great Grandson Curtice in 2002, followed by Dalaynee in 2005. Chuckie and Curtice enjoyed the water as much as Johnny did, they provided him crabs and fish he always loved to eat. Many fish stores were explained between them. His granddaughter Angel has remained constant in Johnny's life even living in multiple states. She always visited him, and took him to church when she could. He always loved visits from family.

He was preceded in death by his loving wife, Agnes (Sis) Bernetta Gass, his daughter Tracy Lynn Gass and his son Robert Timothy Gass. He was also preceded in death by his brothers and sister, Malcom Gass, Horace Gass, Geraldine Gass, Mary Wood, Loretta Wood, Blanche Gass, George Gass, Jeanette Wise and Marian Slade, and his nephew Kenny Gass. He is survived by his sisters; Ernestine Keaton of Manassas, VA, Catherine Corbin of North Carolina, and Margaret Wheeler of South Carolina. His grandchildren; Charles Knott and Fiancé Dawn Bibb of Avenue, Sherry Knott, Robert (Bobby) Gass of Indiana, John (Jay) Gass of Indiana, Angela (Angel) Gass-Didsbury and her husband Stuart Didsbury of Lexington Park, and John (Johnny) Gass and Fiancé Amanda Zinn of Hollywood. He was a proud Great-Grandfather to 7 Great Grandchildren, Curtice Knott and Dalaynee Knott of Avenue. Rebecca and Tyler Wathen of MD, Natalie, Alex and Addison Gass of Hollywood.

The family will receive friends on Monday, July 25, 2016 from 9:000 AM to 10:00 AM in Holy Angels Catholic Church Avenue, MD. A Mass of Christian Burial will follow at 10:00 AM with Father Anthony Lickteig officiating. Interment will follow in Charles Memorial Gardens Leonardtown, MD. Arrangements by Mattingley-Gardiner Funeral Home.