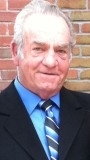 Thomas "Tommy" Newton Gibson III, 74, passed away with his wife by his side on Monday, July 11, 2016, at his home in Phenix City, Alabama after a battle with cancer. He was born to Ella Young-Gibson and Thomas Newton Gibson Jr. on July 23, 1941 in Calvert County, Maryland.

Tommy graduated from Calvert High School in 1959 and remained in his hometown of Huntingtown working the family's small farm part-time with his father and brother Sammy for many years. Tommy accepted a position with General Woodworking Corporation starting as a Carpenter. He remained working there for 30 plus years, retiring as a Carpenter/Forman in 2010. A master carpenter, Tommy built his own house on the Gibson family's Cox Road property and lived there until 2015.

In his free time, Tommy enjoyed working on home improvement and repair projects, tinkering with engines, attending Columbus Lions indoor football games for which his son Jason is head coach, watching classic television shows and spending time with family and friends.

He is survived by his wife June (Lusby) Gibson, his sons Kenny Gibson, Jason Gibson and Brian Woodard, his siblings Barbara Powell, Samuel Gibson, Tish Lucas, Brenda Hance and Debbie Burrell; his grandchildren, Sophie, Gunnar, Jett, Steele, Robbie and Kira; his loving nieces, nephews and other relatives. Tommy was preceded in death by his parents Newton and Ella, his brother Jamie Gibson, and son Shane Woodard.

A memorial service will be held at the Huntingtown United Methodist Church, 4020 Hunting Creek Road, Huntingtown, MD on Saturday, July 23, 2016 at 11am. In lieu of flowers, the family requests memorial donations be made to the Prince Frederick Rescue Squad 755 Solomon's Island Rd. S. Prince Frederick Md. 20678. Arrangements by Rausch Funeral Home.