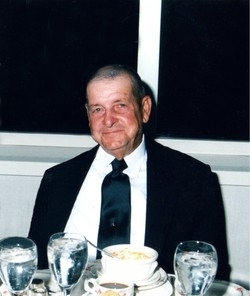 James "Jimmy" Ignatius Gatton Sr., 78, of Leonardtown, MD passed away on July 13, 2016. Jimmy was born on September 19, 1937 in his family home on Medleys Neck Road. He was the son of the late William C. Gatton and Mary C. Evans Gatton.

Jimmy was a lifelong resident of St. Mary's County and was very proud to call this home. You could often find him riding around Leonardtown in his pickup truck, stopping at the local hot spots to say hello to friends or just to people watch and you could often catch him somewhere playing Keno and the Lottery. In his early years, he was an altar boy at Our Lady's Church, went to Our Lady's Church School and went on to attend Saint Mary's Academy.

Early in his career, Jimmy worked for Par Gas, but then started working construction. A few years later he opened his excavating business, J & W Construction with a friend, where he worked from 1975 until retirement in year 2000. With excavating being his passion, you would often find him on the backhoe. Jimmy had a keen eye and he took great pride in his work. Throughout his life, he also enjoyed helping friends and family with whatever they asked of him.

Jimmy married the love of his life, Faye (Williams), in Leonardtown on August 20, 1970. They celebrated 45 wonderful years together. They loved going on cruises to different parts of the world, going to Dover Downs and spending time with family and friends. Jimmy was predeceased by daughters, Stacy Brown and Melinda Kohn, sister, Mary Francis Knott, and brother, John William Gatton. He is survived by his wife, Faye, his children, James "Butch" I. Gatton, Jr. (Barbara), Vicky Lynn Russell (Francis), and Catherine Brenee Lucarelli (Louis), 12 grandchildren, and 19 great grandchildren. Also surviving is brother, Charles "Dickie" B. Gatton (Hilda) and sister, Gloria Hayden.

There were many things that Jimmy loved doing with family and friends. He enjoyed eating crabs, oysters, and drinking a nice cold Miller Genuine Draft beer, watching old westerns, gardening, and hunting. He also was a big fan of NASCAR, the Baltimore Orioles and the Dallas Cowboys. Jimmy will be deeply and sadly missed by his family and friends.

Family will receive friends for Jimmy's Life Celebration on Sunday, July 17, 2016, from 2:00-5:00 p.m. with prayers recited at 4:00 p.m., at Brinsfield Funeral Home, P.A., 22955 Hollywood Road, Leonardtown, MD 20650. A Mass of Christian Burial will be celebrated by Reverend John Nguyen on Monday, July 18, 2016, at 10:00 a.m. at Our Lady's Catholic Church, 41410 Medley's Neck Road, Leonardtown, MD 20650. Interment will follow in the church cemetery.

Servings as pallbearers will be Frankie Tippett (friend), Butch Gatton (son), Francis Russell (son in law), Steve McGee (friend), Boone Johnson (friend), Walter Johnson (friend), Ronnie Williams (nephew) and George Harris (friend). Honorary pallbearers are Jason Gatton (grandson), Will Gatton (grandson), Chris Gatton (grandson), and Robert Gatton (nephew), Brian Kragh (nephew), RoyWilliams (nephew). Arrangements handled by the Brinsfield Funeral Home, Leonardtown, MD.