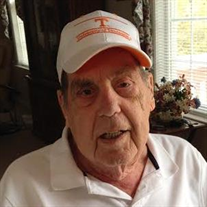 Gerald E. (Jerry) Sebold passed away on Thursday, July 14 at his home in Chesapeake Beach, MD surrounded by his family. Jerry was born in 1928 and, as a young boy, accompanied his family to Washington, DC. He graduated from Gonzaga College High School and then entered the U.S. Army.

After completing his military service he married his high school sweetheart, Rita Boteler, and shortly thereafter entered the printing business. He remained in the printing business throughout his career and retired as the Comptroller of the U.S. Government Printing Office. After retiring in 1985, He and Rita moved to Bethany Beach, DE and enjoyed their time socializing with friends, playing bridge, volunteering and hosting their large extended family.

In 2001, they moved back to the area after Rita became ill. During Rita's prolonged illness, Jerry became her primary care giver in their home. Throughout his life, Jerry was a devout Catholic and spent a good deal of time demonstrating his faith by volunteering his services to the church in various roles, including lector, CCD teacher, and CCD administrator.

Jerry is predeceased by his beloved wife Rita and survived by six children: Janice (Joe), Jerry (Gilda), Jimmy (Judy), Kathy Gerding (John), Jean, and Michael (Connie). He is also survived by 12 grandchildren and 13 great grandchildren, and one great great grandchild.

Memorial contributions may be made to Calvert Hospice, PO Box 838, Prince Frederick, MD 20678. Arrangements provided by Lee Funeral Home.