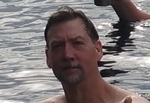 Thomas "Tom" Edward Christian, 55, of Hollywood, MD passed away on July, 12, 2016 in Leonardtown, MD. Born October 6, 1960 in Long Beach, CA he was the son of Marjorie Christian of Santee, SC and Elgin Ray Christian of Clemont, FL.

Tom was the loving husband of Dawn Christian of Hollywood, MD whom he married on November 1, 2010 in Maui, Hawaii.

He is also survived by his daughter Shannon Christian of Raleigh, NC and 1 grandson Cameron Artzner of Geneva, FL, sister; Nancie (Brad) Ludwig of Vance, NC Tom was preceded in death by a brother Stephen Christian.

A Memorial Service will be held at a later date. In lieu of flowers memorial contributions may be made to your local animal rescues. Arrangements by Mattingley-Gardiner Funeral Home.