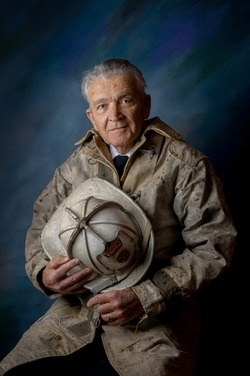 George McWilliams III, 81, of Avenue, MD passed away on July 10, 2016, at the Hospice House of St. Mary's surrounded by his family and his best friend and faithful companion, "Bear." George was born on October 8, 1934 in Washington, DC to the late George (Jr) and Alice Beitzell McWilliams.

George began his career with the Soil Conservation immediately following his high school graduation. He worked there for 35 years. He served in the US Army National Guard for 8 years, was a St. Mary's County School Bus Contractor for 40 years, was a Charter Member of the Seventh District Volunteer Rescue Squad and served on the St. Mary's County Metropolitan Commission. Aside from his family, George's greatest love was the Seventh District Volunteer Fire Department which he joined at the age 16. He held multiple positions, served on numerous boards and was the Chief for 25 years.

George married his high school sweetheart, Barbara (Bobbie) Gibson in Avenue on January 8, 1954. Together, they celebrated over 58 wonderful years at their home on Pene Rene Farm which they generously shared with their family and friends for parties and celebrations. Bobbie, the love of his life, predeceased him in April, 2013.

George enjoyed the fast ride of a fire engine, the adrenaline rush of the call of the alarm, the soft hum of his tractor plowing fields and could spend hours mowing grass. Throughout the seasons, he could be found sitting in his swing on the back deck with the "Bear" watching the deer and wild turkeys on his farm; having just finished a cold coke-a-cola and his rosary. An amateur weather forecaster, he always caught the local news, "just for the weather" and historically was more accurate. He was looked up to by many, admired and respected and credited for life saving acts, especially that of his granddaughter, Emily. During his very last days here, he welcomed his first great grand baby, Annabelle.

George was predeceased by a daughter, Mary Faith. He is survived by his children, Dorothy Gail Ballance (Donnie), George Francis McWilliams (Kathleen), Barbara Lynn Quigley (Mike) and Carol Anne Davis (Tommy), 15 grandchildren and 1 great grandchild. Also surviving are three sisters, Mary Alice Muir (Mike), Trumbull, Ct, Rose Marie Benson (Bennie), FL, Claudia McAullife, Rockville, MD, and four brothers, Andrew McWilliams (Dianne) Mechanicsville, MD, James McWilliams (Myrtle), Bushwood, MD, Charles McWilliams (Barbara), Leonardtown, MD and Patrick McWilliams (Sharon), Mechanicsville, MD.

The family will receive friends at the Seventh District Volunteer Fire House in Avenue between 5-8pm on Monday, July 18, 2016. A funeral mass will be celebrated at Sacred Heart Church in Bushwood, MD on July 19, 2016 at 10am. The recessional will depart the Seventh District Fire House at 9:30am. Burial will follow in the church cemetery with full fire department honors. Memorial contributions may be made to: Hospice House of St. Mary's, Post Office Box 625, Leonardtown, MD 20650 or the Seventh District Volunteer Fire Department, Post Office Box 206, Avenue, MD 20609. Arrangements by the Brinsfield Funeral Home, P.A., Leonardtown, MD.