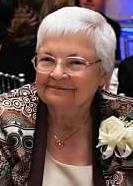 Doris Hance Denton, 87, of Sunderland, died July 11, 2016 at Calvert Memorial Hospital. She was born November 23, 1928 in Mutual to the late James E. and Hazel E. Hance. She graduated from Calvert High School and attended business school in Baltimore, Maryland.

Upon completion of business school, she began a personnel management career with the United States Air Force at Bolling and Andrews Air Force Bases that spanned over three decades. During that period she assumed many different roles and grew with her responsibilities. Managing scores of staff, she was constantly recognized as the go to person when difficult personnel issues would arise.

She and her husband, Lester (also employed by the US Air Force) prided themselves in identifying young women from Calvert County who had the potential to serve our government. Together, they helped many Calvert countians begin very successful careers within the civil service. In addition to her responsibilities to the Air Force, she was a devoted wife and mother. Working 5-6 days per week, she always found the time to put dinner on the table every night. She was a true role model for her children, and later, her grandchildren.

She was predeceased in death by her father and mother and by her brother Marcellas Hance and sister Helen Hance Goss. She is survived by her husband of 68 years, Lester Wilburn Denton, her son Don Denton of Washington DC and wife Jean, her son Dale Denton of Washington DC and partner Morgan Washburn and her daughter Nancy Denton Fowler of Sunderland, Maryland and husband Tim. Grandchildren: Jenna Denton Madani, husband Sia, Jessica Fowler Whitesell, husband Rod, Kimberly Fowler, William Denton, Zachary Denton and Shelby Denton. Great grandchildren: Tyler Whitesell, Oliver Madani, Jay Whitesell, Emily Whitesell, and Isabel Madani. In addition, she is survived by her sister Linda Hance Nolan (Sam), sister Barbara Curry (Elmer) and brother Rodney (Ann), and numerous nieces and nephews.

Doris would close by thanking the amazing medical staffs at the Washington Hospital Center, Calvert Memorial Hospital and the Medstar Shah Group, especially Anwar Munshi MD, her internist for 30 plus years.

Arrangements by Rausch Funeral Home.