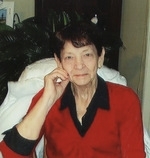 Mary Helen Abell, 80, of Lusby, MD passed away peacefully in her sleep on Friday, July 8, 2016 at her residence. Born January 27, 1936 in Harlan, KY she was the beloved daughter of the late Samuel J. Dunn and Loreen Johnson. She was the loving wife of Martin Vernon Abell for 29 years.

Mary Helen was a wonderful and loving mother to her surviving children: Mary Seals, NJ; Martin C. Abell (Gloria) Hollywood, MD; Glenda A. Abell, Leonardtown, MD; Dale M. Combs (Norm) Neillsville, WI; Mary P. Leach (Jamie) Leonardtown, MD; Michael E. Abell (MaryBeth); Robin L. Bascara (Junior) Orange Park, FL; David W. Abell (Tammy) Dowell, MD; James P. Abell (Denise) Hollywood, MD, and Mary C. Bell (Mark) Leonardtown, MD; and her step-children: G. Wayne Pilkerton, Great Mills, MD; Anna Mae Dean (Danny) Drayden, MD; and Sharon Pilkerton, Callaway, MD. Mary Helen was a Grandmother, Great-Grandmother, and Great-Great Grandmother to over 100 children. She is also survived by her youngest brother, Glenn E. Dunn of Richfield, North Carolina.

In addition to her parents, she is preceded in death by Benny and Elsie Russell that raised her; her significant other of 29 years, Franklin D. Pilkerton; her siblings: Winford Dunn, Gilbert Dunn, Dorothy Crump, Doris Orr, Midge Clapp, and Norman Dunn of North Carolina; her in-laws, Gertrude and James A. Norris, Hollywood, MD; and her children: Joseph A. Abell, James V. Abell, and Baby Girl Abell.

Mary Helen was a homemaker but had a love for the water and worked with Martin for many of their years together. She was a devoted and dedicated Mother and Grandmother that held her family together despite many obstacles. There were no strangers to Helen because everyone was family. She was very selfless and always enjoyed spending time with family. She also enjoyed flowers, shopping, playing cards, gathering with family and friends, eating crabs, and baking.

The family will receive friends on Wednesday, July 13, 2016 from 5 to 8 p.m. for Mary Helen's Life Celebration at the Mattingley-Gardiner Funeral Home, 41590 Fenwick Street, Leonardtown, MD 20650. Funeral Services will be held on Thursday, July 14, 2016 at 10:00 a.m. in the Mattingley-Gardiner Funeral Home chapel with Father Raymond Schmidt Officiating. Interment will follow in the Church of the Nazarene Cemetery, 24710 Sotterley Road, Hollywood, Maryland with fellowship to follow at the Solomons Yachting Center, 255 Alexander Lane, Solomons, Maryland.

Serving as pallbearers, will be Helen's Grandchildren: Jimmy Abell, Mikie Abell, Ronnie Abell, Joseph Bascara, Donnie Leach, and Ritchie Lokken. Serving as honorary pallbearers are: Aiden Abell, Junior Abell, Brad Bell, Mickey Neill, Billy Norris, David Norris, Michael Norris, Ray Norris, Ronnie Norris, Teddy Norris, Mark Pollack, Danny Sweeney, and Leonard Knott. Memorial Contributions may be made to the Solomons Volunteer Rescue Squad and Fire Department, 13150 HG Trueman Road, P.O. Box 189, Solomons, MD 20688. Arrangements provided by Mattingley-Gardiner Funeral Home, P.A., Leonardtown, MD.