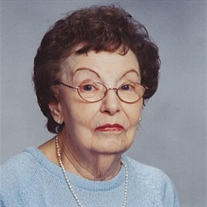 Hilda Maxine Kellar, 93, of Waldorf, MD died July 8, 2016 at her residence. She was born on July 28, 1923 in Westernport, MD.

Hilda enjoyed 2 full-time careers. She worked for Marriott as a Dietitian and retired after 25 years of dedicated service at Doctor's Hospital, George Washington University Hospital, St. Albans School, Goodwin House, St. Mary's College, Greater Southeast Hospital and Washington Hospital Center.

After retiring from Marriott, she decided she couldn't sit at home. She applied for a job at Sears in the St. Charles Towne Center. She immediately started working in the bedding department stocking the shelves and quickly became a cashier. She stayed at Sears as a cashier for 25 years until retiring for a second time. She became Sears' oldest living employee in the Waldorf store, working until the age of 87.

She loved talking to people so much, family members used to joke that wherever she went, she knew somebody. She raised 4 children mainly as a single mother. She will be missed by all who ever knew her.

She passed peacefully at home where she lived for the last 4 years with her daughter, Janie Geer, and her son-in-law, Henry Geer. She is preceded in death by her parents, Ray and Susan Spurling; two brothers, William Spurling and Ronald Spurling; and three grandsons, Raymond M. Shearer, Michael L. Shearer and Albert Lee Williford.

She is survived by four children, Ann (Dean) Boulet, Sandra Williford, Raymond (Jeannette) Shearer and Janie (Henry) Geer; eight grandchildren, John Williford, Jerry Williford, Tracy Propst (Boulet), Diane Mohler (Shearer), Donna Jenkins (Shearer), Henry Geer, III, Megan Humphries (Geer) and Christopher Geer; and 14 great-grandchildren. Arrangements by Raymond Funeral Service, P.A., La Plata, MD.