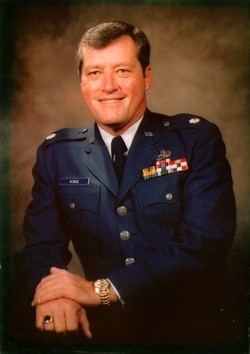 Donald King, Lieutenant Colonel, United States Air Force (Retired), 71, of Hollywood, MD passed away on July 6, 2016 surrounded by his loving family. Don was born on January 15, 1945 in Cookeville, TN to the late Donald Zebedee King and Rose Birdwell King.

Don served in the USAF and dedicated twenty-one years of service to his country until his retirement in 1988. He continued his career as a defense logistics contractor until retirement. On October 31, 1999, he married his beloved wife, Reita Gayle King.

He was a devoted member of Leonardtown Baptist Church and active in Gideon's International. Don was very involved in his community and active in the Disabled American Veterans, serving as a former Commander and most recently as Adjutant of St. Mary's #26.

In addition to his beloved wife, Don is survived by his children and grandchildren, Cynthia King Mazur of VA (husband, Tony; grandchildren, Ryann & Kathryn); Rebecca King Henry of VA (husband, Matt; grandchildren, Liam & Madeleine); David Rogers of VA (wife, Annette; grandchildren, Christina & Michael (wife, Beth, great-grandchildren (Lux & Max); Mark Rogers of VA (wife, Donna; grandchildren Mark & Stephen); and Miriam Pearson of VA (husband, Dennis; grandchildren, Hunter & Rebecca). In addition, he is also survived by his brother David King of TN (wife, Aldie); sister Ruth King Phillips of MI (husband, Bill); brother Ronald King of MI (wife, Robin).

Family will receive friends on Saturday, July 9, 2016 from 1:00 - 2:00 pm, with a celebration service at 2:00 pm, at Leonardtown Baptist Church, 23520 Hollywood Road, Leonardtown, MD 20650. Burial with military honors will follow at a later date at Arlington National Cemetery.

Memorial contributions may be made to the Disabled American Veterans, St. Mary's #26 23282 Three Notch Road VFW, California, MD 20619 or Leonardtown Baptist Church, 23530 Hollywood Road, Leonardtown, MD 20650. Arrangements by the Brinsfield Funeral Home, P.A., Leonardtown, MD.