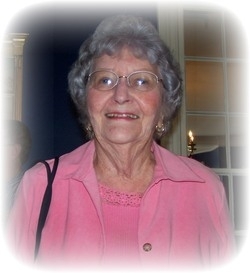 Elizabeth Reese "Betty" Taylor, 88, of Leonardtown, MD passed away on July 2, 2016 at St. Mary's Nursing Center in Leonardtown, MD. Betty was born September 16, 1927 in Leonardtown, MD to the late Joseph LeRoy McNey and Mary Gladys Johnson. She had many happy memories growing up at the bottom of Leonardtown Hill (Frogtown) next to her grandparents.

In 1968, she co-founded The St. Mary's Riding Club (and continued as a lifetime member) and was a long time member of The Delabrooke Hunt Club. She loved riding horses and had a successful breeding program. In her later years, she enjoyed driving her homebred ponies and showing them all over the east coast.

She had a special love for her children and grandchildren and never missed an important event in their lives. She enjoyed singing in the church choir and with the "The Vibes" and playing the piano all her life. For many years she played bridge with her girlfriends every month. Her other hobbies included needlepoint, reading and crossword puzzles.

Betty is survived by her five children, Robert O. "Robin" Guyther (Darlene), Susan Candace "Candy" Guyther, David M. Guyther (Rebekah), Helen E. "Betsy" Fritz (Rick), and Mary Jo Willenborg (Willie), all of Leonardtown, MD; her sister, Anne Harding McNey Drury of Leonardtown, MD; her husband, Harry E. Taylor of Solomons, MD and her grandchildren, Jack Nathan Fritz, Brooke Elizabeth Fritz, Andrew McNey "Andy" Guyther, Hannah "Eliot" Willenborg, Allison Nicole "Ally" Willenborg, Benjamin Joseph "Ben" Guyther, and many extended family and friends. In addition to her parents, she is also preceded in death by her sister, Jean McNey Burris and her first husband, Oliver R. Guyther.

Family will receive friends for Betty's Life Celebration on Friday July 8, 2016 from 9-10:30 a.m., at Brinsfield Funeral Home, P.A., 22955 Hollywood Road, Leonardtown, MD 20650. A Mass of Christian Burial will celebrated by Reverend John T. Nguyen at 11:00 a.m. at Our Lady's Catholic Church Medley's Neck, 41410 Medleys Neck Road, Leonardtown, MD 20650. Inurnment will follow in the church cemetery.

Servings as pallbearers will be Betty's six grandchildren. Memorial contributions may be made to Our Lady's Church, 41348 Medleys Neck Road, Leonardtown, MD 20650 and Alzheimer's Association, 10655 Stanhaven Place, Suite 205D, White Plains, MD 20695. Arrangements by the Brinsfield Funeral Home, P.A., Leonardtown, MD.