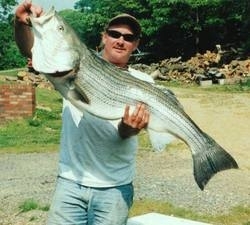 Woodrow Thomas "Woody" Hill III, 53, of Hollywood, MD passed away on June 27, 2016 in Baltimore, MD. Woody was born October 20, 1962 in Leonardtown, MD to Woodrow Thomas Hill, Jr. and Shirley Foxwell of Baltimore, MD.

Woody is a graduate of Dundalk Sr. High School. He was self-employed in home improvement for over 20 years and also worked as a waterman. He had a love for the water, especially enjoying boating, crabbing, fishing, and catching oysters. He was an avid history buff, especially on Maryland. He was loved by many and could always be found lending a helping hand. His black lab, Tyson, was his beloved baby. His greatest love was spending time with his friends and family.

In addition to his parents, Woody is also survived by his sister, Terri Ann Bell and brother-in-law, Charlie Bell, Sr. of Stewartstown, PA; his step-brother, Josh Frericks of Lexington Park, MD; his nephew, Charlie Bell, Jr. of York, PA and many extended family and friends.

Family will receive friends on Saturday, July 2, 2016 from 10:00 a.m. to 1:00 p.m., with a Funeral Service celebrated by Pastor Don Geller at 12: 00 p.m., at Brinsfield Funeral Home, 22955 Hollywood Road, Leonardtown, MD 20650. Friends may gather for food, refreshments and remembrances of Woody at the Moose lodge located at 23886 Mervell Dean Rd, Hollywood, MD 20636 immediately following.

Interment will be private. Memorial contributions may be made to Animal Relief Fund, P.O. Box 184, Hollywood, MD 20636. Arrangements by the Brinsfield Funeral Home, P.A., Leonardtown, MD.