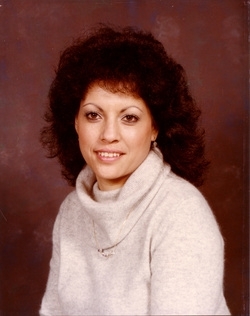 Shirlenne Jean Linn, 69, of Charlotte Hall, MD passed away on June 25, 2016 at Genesis, in Waldorf, MD due to complications resulting from her long term battle with Parkinson's Disease. Born second in a pair of identical twins on December 10, 1946 in Honolulu, Hawaii she was the daughter of the late John Paul Swick and Dinah Kay Kaopua Swick.

Shirlenne grew up in Cumberland, MD where she graduated from Fort Hill High School. Following high school, she pursued interests in hair and makeup by attending beauty school. Shirlenne was a devoted wife and mother. She was a homemaker and lovingly raised her children. After her children were older, she went to work for the Washington Metropolitan Area Transit Authority in Washington, DC. "Slenne" (as her twin would call her) had a flare for decorating. She enjoyed shopping, listening to music, country line dancing, antiquing and gardening. She was a good cook but always preferred to go out for seafood whenever possible. Most of all, she loved spending time with her family, friends and pets.

Shirlenne is predeceased by her husband, James Howard Linn, and her parents. Shirlenne is survived by her children, Sheila B. Linn (Scott Moe), Wesley M. Linn (Bonnie Wolfrum) and Michael A. Linn; siblings Yvonne Cover (Glenn), Shirlanne Evans, John Paul "Butch" Swick, II and Amelia Myers; and grandchildren Wesley, Jr., Kelsey, Kaycee, Kylie and Kaleb.

Family will welcome friends for Shirlenne's Life Celebration on Wednesday, June, 29, 2016 from 9:00 a.m. to 11:00 a.m. followed by a funeral service at 11:00 a.m. at Brinsfield-Echols Funeral Home, P.A., 30195 Three Notch Road, Charlotte Hall, MD, 20622. Interment will follow after the service at Queen of Peace Cemetery, 38888 Dr. Johnson Road, Mechanicsville, MD 20659. In lieu of flowers, memorial donations may be made to the National Parkinson Foundation, 200 SE 1st Street, Suite 800, Miami, FL 33131 and the Humane Society of Charles County, 71 Industrial Park Drive, Waldorf, MD 20602. Arrangements by Brinsfield-Echols Funeral Home.