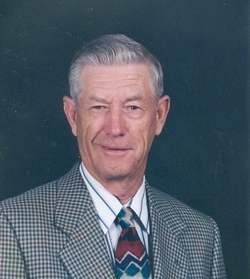 George Norwood "Buck" Chaney, 88, of Owings, MD passed away June 26, 2016 at his residence. He was born July 3, 1929 in Owings to George and Effie (Mister) Chaney. He was preceded in death by a brother Morris Allen Chaney and son Larry Michael Chaney.

George attended Fairview Elementary School and Calvert High School. George married Luella Jean French June 18, 1949 and the couple made their home in Owings where he worked the family farm. Buck later became a carpenter and home builder operating Custom Built Homes by George N. Chaney. Mr. Chaney retired in the 1990's.

He was a member of Grace Brethren Church and volunteered with the Calvert County Food Pantry. He enjoyed watching the Baltimore Orioles and Washington Redskins, playing golf and shuffleboard. George and his wife enjoyed spending winters in Florida for over 25 years.

Buck is survived by his wife Luella Jean Chaney of Owings; children Linda Dunn and her husband Tom of Owings, Stephen Chaney and his wife Diane of Huntingtown; and David Chaney and his wife Candy of Owings; grandchildren Jennifer Dunn Zlotorzynski and her husband Brian, Kevin Dunn, Justin Chaney, Andrew Chaney, Kristin Dunn and her fiancé Dave Tudja, Lindsey Chaney Moorley and her husband Jonathan, Brittany Chaney, Keriann Dunn Linkous and her husband Jason, Collin Chaney and Tyler Chaney; great grandchildren Riley Dunn, Sean Zlotorzynski, and Carter Dunn; brothers Venton L. Chaney and his wife Becky of Owings, James K. Chaney and his wife Donna of Owings; sisters Ellen Mae Chaney of Ohio and Virginia Swingler and her husband Ron of Lothian.

Arrangements provided by Rausch Funeral Home.