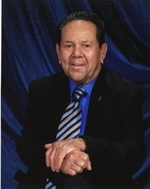 John Walter Lacey Sr., 88, of Chaptico, MD passed away surrounded by his loving family on June 16, 2016 at Hospice House in Callaway, MD. He was born on November 5, 1927 in Washington, DC and was the son of the late Walter Benjamin and Mary Ada (Quade) Lacey.

He was preceded in death by his loving wife, Shirley Estelle (Morgan) Lacey, whom he married on December 27, 1952 at St. Joseph's Church in Morganza, MD. They shared 56 years of marriage before she passed on May 12, 2008.

John attended Sacred Heart School in Bushwood, MD. He was a lifelong resident of St. Mary's County, MD where he worked as a tobacco farmer until 2000. While working as a tobacco farmer, he worked part time as an electrician/plumber assistant to Jim Cleaver and later with Penn Line and for McKay's in Charlotte Hall, MD, from 1988 to 2007 as a maintenance/ grounds keeper. He was a lifetime parishioner of Sacred Heart Catholic Church where he attended daily masses until he was unable to drive. He enjoyed watching his sons play softball, going to dances and pitch games with friends, and being with his loving family, grandchildren and great grandchildren.

He is survived by his four children: Bernadette Marie Combs (Bennie) of Chaptico, MD, John Walter Lacey, Jr. of Hughesville, MD, Barbara Ann Mayor (Bernie) of Chaptico, MD., and Kenneth Lee Lacey of Chaptico, MD. In addition, he is survived by his nine grandchildren: Jamie Lacey of Alexandria, VA, Becky Kyser (Dave) of St. Inigoes, MD, Allan Mayor (Amy) of Morgana, MD, Michael Mayor (Kristal) of Perryville, MO,; Brad Combs of Chaptico, MD, Heather Casssano (Matt) of Alexandria, VA, Megan Lacey of White Plains, MD, Leanna Mayor of California, MD,Todd Lacey of West Virginia.

He is also survived by nine great-grandchildren: Natalie and Reed Kyser; Madison and Grayson Mayor; Gavin, Kali, and Camden Mayor; Trevor and Serenity Lacey; and Luca Cassano is due in July. John was preceded in death by his sisters Lorraine Lacey, Mary Elsie Morgan, and his brothers; Raymond Lacey, Joseph Calvin Lacey, James Aloysius (Doc) Lacey, Leonard David (Satch) Lacey, and Stephen Malvin (Skeeter) Lacey.

The family will receive friends on Wednesday, June 22, 2016 from 5:00 PM - 8:00 PM with prayers recited at 7:00 PM in the Mattingley-Gardiner Funeral Home, Leonardtown, MD. A Mass of Christian Burial will be celebrated on Thursday, June 23, 2016 at 10:00 AM in Sacred Heart Catholic Church Bushwood, MD with Father Anthony Lickteig officiating. Interment will follow in the church cemetery.

Pallbearers will be: Jamie Lacey, Allan Mayor, Michael Mayor, Brad Combs, Todd Lacey, Stephen Lacey, Jr., and Charlie Lacey. Honorary pallbearers will be: Becky Kyser, Heather Cassano, Leanna Mayor, Megan Lacey, Matthew Quade, and Bubby Norris. Memorial donations may be made in John's name to Sacred Heart Catholic Church P.O. Box 37 Bushwood, MD, and /or Hospice of St. Mary's P.O. Box 625 Leonardtown, MD 20650. Arrangements provided by Mattingley-Gardiner Funeral Home.