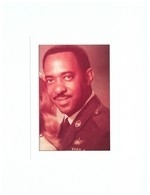 James O. Portee "Jim", 76, of Park Hall, MD passed away on June 12, 2016 in Leonardtown, MD. Born on June 9, 1940 in Washington, DC, he was the son of the late Hattie M. Hill Portee and James Portee. Jim was the loving husband of Brenda Portee.

Jim is survived by his children Deborah Young, Theresa Hayes, Jeffrey Harris Portee, Sonya Thomas, Dee Brown, Jim Portee, Gigi Portee and Brother John Portee. He was preceded in death by his son Steven Thomas Portee. Jim served in the United States Air Force for 20 years, while serving he was an aircraft loadmaster and earned; SAEMR w/ DEV, AFLSA w/4OLC, AFG CM w/4 OLC, and AFR900-48. He held a Bachelors of Business and Minor is Physiology.

The family will receive friends on Thursday, June 16, 2016 from 1:00 PM - 2:00 PM in the Mattingley-Gardiner Funeral Home, Leonardtown, MD A Funeral Service will be follow at 2:00 PM in the Funeral Home Chapel with Pastor Dan Moore officiating. Interment will be private. In lieu of flowers contributions may be made to the American Cancer Society. Arrangement provided by the Mattingley-Gardiner Funeral Home, P.A. Leonardtown, MD.