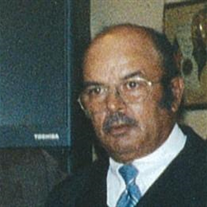 Joseph Aaron Thompson of La Plata, Maryland died on Saturday, June 11, 2016 at his home. He was 75 years old. Aaron Thompson was born on May 18, 1941 to the late Annie Cecilia Savoy and the late Joseph Aaron Thompson Sr. He was educated in the Charles County Public School System. Aaron worked for the Washington Hilton Hotel and spent twenty years with the Charles County School System.

His hobbies were fishing, yard work, cooking (Michelle loved his fried potatoes and Lisa loved his seafood), and spending time with his brothers. But most of all, he was a quiet, reserved man, who had no problem, spending the day at home. Although, Aaron spent the last 14 years at home due to a medical condition, it was still his way or no way. He was still reserved and wanted to be alone. He would roll those eyes and put his hand up, and we all knew what that meant! We would all say "DON'T MAKE ME CALL MARY" and she would come or we put her on speaker and say "DON'T MAKE ME CALL MOM"! We loved that man for being him at all times. Aaron married Gloria L. Coates on June 18, 1983.

He is preceded in death by his mother and father; father-in-law Benjamin Coates; brothers Carl, Freddy and Curtis Thompson; brother-in-law James Johnson and Purnell Proctor; Aunt Mary Ruth Williams. In addition to his dedicated wife of 33 years Gloria, Aaron is survived by his daughters Lisa Felton (Howard), Michelle Jones (Sam), and Mary Gordon (Dave); brothers George (Elizabeth), Carlos (Betty); sister Sandra Johnson; sisters-in-law Anita (Jackie), Lorraine (Vondell), and Mary (Speedy) Thompson; brothers-in-law James and Vincent Coates; mother-in-law Mary Coates; grandchildren Duane, Ashley, Danielle, Lisa, Jaraontae, Tre'von, Amaya, Jalen, Mariya and Brooklyn; great grandchildren Giana, Da'Nylia, Aniya and Aria.

Gloria and her family would like to give special thanks to the Charles County Hospice House, Raymond Funeral Service, Aaron's passionate Dr. Collen Jude, amazing social workers Brandy, Sarah and Emily and his committed, compassionate caregivers Joy Gaines and Yvonne Gaines. Visitation on Friday, June 17, 2016 from 9:30AM until time for service to begin at 11:00AM at the Raymond Funeral Service, P.A. 5635 Washington Avenue La Plata, MD 20646. Interment will be private. Arrangements provided by Raymond Funeral Service.