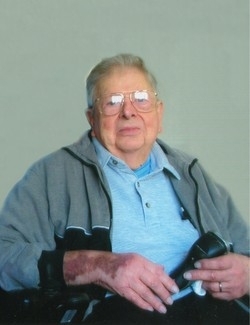 James Otis Clark, 91, of Leonardtown, MD passed away June 7, 2016, at his home surrounded by his loving family, including some of his great grandchildren. He was born February 16th, 1925 in Moorehead, Iowa to the late Irvin Paul Clark and Carrie Armintha Lewis.

On February 10, 1943, James proudly enlisted in the United Sates Navy. While serving, he was offered an opportunity to take the entrance exam for the United States Naval Academy and chose to do so with the result of a ranking of 14th from 1,000 tested. After 2 years at the USNA, his eyesight became impaired and he was told that he could not be offered a commission as an officer. As a result, he transferred to the University of Tennessee where he earned a BS in Electrical Engineering.

On July 23, 1952, he married his beloved wife, Georgia Leona Crabtree in Oakridge, TN. Together they celebrated over 63 wonderful years of marriage. After all those years together, his granddaughter noted that you could still see the twinkle in his eye every time he looked at his wife.

He began his career as an electrical engineer with Westinghouse and worked his way up to an executive. As a representative of Westinghouse, he was one of the first American business men to enter China when that country opened its borders to trade with the USA. Ironically, he now has two wonderful great granddaughters who were adopted from China. After 32 years of dedicated service, he retired from Westinghouse as a Vice President of the High Speed Elevator Division. His greatest joy was spending time with his wife and family.

In addition to his beloved wife, Leona, James is also survived by his daughters, Sharon "Sherri" Wolf (Tom) of Leonardtown, Pamela "Pam" Scott (Craig Wasson) of Swanton, MD, and Melinda Bellafronte of Leonardtown, MD; his grandchildren: Kate Vourazeris, Lorrin Noonan, Llaen Coston-Clark, Brae Coston-Clark, Dan Bellafronte and Carrie Bellafronte; his great grandchildren: Blake Vourazeris, Caleb Vourazeris, Moriah Vourazeris, Mary Vourazeris, Abby Mei Noonan, and Bekah Noonan; and many extended family and friends. In addition to his parents, James is preceded in death by his son, Dennis Wayne "Danyaon" Coston-Clark, and his brothers Donald Clark, Paul Clark and Kenneth Clark.

All services will be private. Memorial contributions may be made to Hospice of St. Mary's, P.O. Box 625, Leonardtown, MD 20650. Arrangements by the Brinsfield Funeral Home, P.A., Leonardtown, MD.