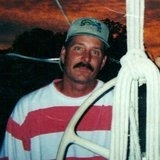 Jon Shaw Lore Jr., 54, of Lexington Park, MD passed away on June 2, 2016. He was born on February 28, 1962 in Washington, DC to Jon Shaw Lore Sr. and Alice Faye Lore.

He is survived by his wife, Patricia Ann Lore; his children, Jon Shaw Lore III and Jessica Erin Lawshe (Lamar); his grandson, Mekhi Xavier Lawshe; his sisters, Mary Ann Dudley (Stephen), Dora Francis Millen (Mardy), Sarah Jane Lowe (Jimmy), and 10 nieces and nephews.

He owned and operated Sign Designs with his wife, Patty, since 1986. His passions were boating, oystering, cooking, and spending time with his family, close friends, and beloved pets.