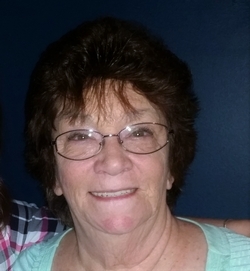 JoAnn Elizabeth Bell, 76, died suddenly of a heart attack on Wednesday, June 8, 2016, at Calvert Memorial Hospital in Prince Frederick, MD. JoAnn was born on June 4, 1940 in Washington, DC to Frank and Genevieve Jones. She was the middle child of 3 girls; her sisters are Patricia Zell and Helen Prado. JoAnn grew up in Riverdale, MD and graduated from Bladensburg High School.

She met the love of her life, Joseph W. Bell, whom she married on March 26, 1959. They had six children, raising them in Maryland and Florida before retiring to Southern Maryland in 1988. They were married for 49 years when Joseph died in 2008. In addition to their six children, they raised two of their grandchildren, Ambur and Chelsey. They were a true example of love and family. JoAnn worked for many years as a bookkeeper and office manager at Homart Press & Envelope Co. in Riverdale, MD.

JoAnn cared for family and friends through her delicious cooking and baking from scratch. Thanksgiving was her favorite holiday and she spent countless hours preparing for the family to gather to enjoy great food and family time. In her early years she loved to dance to Motown, she also had a talent for home decorating, and she loved flowers and birds.

Her surviving family members are numerous, but mainly include: Mother of 6 Children & Their Spouses: Billy and Wanda of Louisiana, Yvonne Moore of Baltimore, Bobby and Barbara of North Carolina, Tony and Sherrie of Lusby, Tommy of Missouri, and Jimmy and Tina of West Virginia. Grandmother to 15: Joe, Mike, Randy, Jessica, Ambur, Chelsey, Alyse, Austin, Abilene, TJ, Torrie, Vincent, Britny, Jenifer, and Billie Jean. Great Grandmother of 6: Jude, Torin, Braxton, Veronica, Isaac, and Lydia. Immediate family: Sisters Patricia Zell and Helen Prado. Best Friends: Jim and Marsha Martin. Other family & friends: Many beloved cousins, nieces, nephews, and friends to list.

The family will receive friends on Sunday, June 12th from 1:30 - 3:00 pm in the Rausch Funeral Home, 20 American Lane, Lusby, MD where a funeral service will be offered at 3:00 with Rev. Jim Swecker officiating. Interment will be private. Memorial donations can be made to Calvert Hospice, 238 Merimac Court, Prince Frederick, MD 20678. Beyond financial donations, JoAnn lived by the Golden Rule, treat others the way you would like to be treated, i.e. make someone laugh, give a hug, or say "I love you" to someone in your life in her memory. Arrangements provided by Rausch Funeral Home.