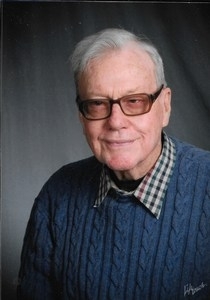 Alfred Lewis Goad, 88, passed away on Wednesday, June 8, 2016. He was born on June 7, 1928 on a farm in Hillsville,VA. He was born at home, the oldest of 4 children. When he was young, his family moved to Beltsville, MD so that his father could find work during the Great Depression. He attended the last one-room schoolhouse in Prince George's County, before attending a new public high school. Alfred's first job was cutting tobacco on a farm in Calvert County, for 10 cents an hour. He recalled his first purchase with his paycheck – a new pair of pants from Montgomery Ward, with a cool zipper pocket on the side!

Along with most boys his age, Alfred wanted to join the military. He enlisted with the Merchant Marines and was sent to Boot Camp. WWII ended while he was in boot camp, so about a year later, he returned home without seeing any action. Alfred began his professional career in construction, with a starting pay of 45 cents an hour. He completed his construction apprenticeship, and received his Journeyman's Certificate in 1949. He rose to the position of Construction Superintendent with Corning Construction, where he worked for 45 years. He oversaw many interesting job sites, including National Airport, NIH, International Monetary Fund, National Cathedral, and Camp David.

On October 21, 1950, Alfred married Joanne Hartman. They built their first home together in Beltsville, MD. They started their family, and soon moved to a larger house in Gaithersburg, MD. They remained in Gaithersburg for 27 years, and completed their family of 8 children, and saw the arrival of many grandchildren. Before Alfred retired, they decided to have a house built in Calvert County. Alfred always loved this area, having a fondness for the tobacco farms as well as fishing in the Chesapeake Bay with his children and grandchildren.

His fondness for the area only grew stronger, as he connected with wonderful neighbors, as well as friends from Grace Brethren Church in Owings, MD. Alfred spent many years as the unofficial "church handyman" who could build or fix anything that needed to be done.

One of Alfred's passions was restoring antique cars, trucks and tractors. His first car was a 1924 Model T Ford that he bought for $50. Since then, he has restored a 1931 Model A Ford, a 1938 Buick, a 1938 Farmall tractor, a 1939 Ford tractor, a 1947 Dodge pickup truck, and a 1953 John Deere tractor. Alfred loved attending antique car shows, especially when Joanne would come along! Joanne's company was the best part of Alfred's life. That is why the last two months of his life have been the hardest.

We will all grieve his absence from this life, but are comforted in knowing that Alfred has been reunited with Joanne, and they are together in the presence of their Lord. Alfred was the father of Dianne (Earl) Godfrey, Tom Goad, Bruce (Gail Cox) Goad, Laura (Jay) Hollinshead, Carol (Brad) Abell, Alan (Gail) Goad, Teresa (Bill) Bedell, and the late Andy Goad. He was the admired grandfather of 26 grandchildren and 28 great-grandchildren. Alfred is predeceased by his siblings, Helen Giddings, Bruce Goad and Roger Goad.

In lieu of flowers, contributions in memory of Alfred Goad can be made to the North Beach Senior Center, P.O. Box 85, North Beach, MD 20714; or to: InTouch Ministries, P.O. Box 7900, Atlanta, GA 30357. InTouch Ministries provided the Charles Stanley sermons on TV every Sunday morning which Alfred enjoyed for many years because he was unable to get out to church. Arrangements provided by Raymond Wood Funeral Home.