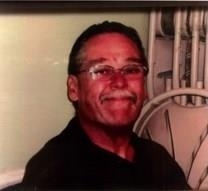 Roland "Ronnie" William McConkey Jr., 61, of Bryans Road, Maryland died Monday, June 6, 2016 surrounded by his loving family at George Washington University Hospital. Born in Washington DC on November 16, 1954. Son of the late Roland William McConkey Sr. and Betty Mae Bryant, brother to the late Calvin McConkey and Mary Bryant.

Ronnie is survived by his wife, Donna McConkey, his daughters, Dawn McConkey, Veronica McConkey, Melisa McConkey Pompell, and Heather Atkinson Eanes. His Grand-daughters, Ronda McConkey, Britney Murdock, Alexus Pompell, Brooklynn Pompell, Delaney Blake and Isabelle Eanes. His brother Jimmy McConkey and son in laws, Charlie Pompell, Randy Blake and Kevin Eanes. His extended family, nephew Alvin McConkey, niece Sherrie McConkey Altman. Sister in law Regina Kindall, her husband Charles Kindall, nephews John and Eric Kindall, nephew Joe Messinese, sister in law Lorraine Tillett, nephew Brian Groomes, niece Megan Groomes, sister in law Marion Moreland, her husband Richard Moreland, nephew Gregory Chamberlain, niece Terrie Chamberlain and nephew Chris Moreland.

He loved spending time with his family and friends, hunting, fishing, boating, skiing, and traveling. Ronnie owned All Pride Home Improvements, and was a retired Federal Fire Fighter at Bowling AFB. He was known as "Monk" to his fire fighter family. He was known by many and loved for his dedication to his family, free spirit, friendship and generosity.

Family and Friends are welcomed for a visitation on Sunday, June 12, 2016 from 1 - 2pm, and a funeral service from 2 - 3pm at the Huntt Funeral Home, 3035 Old Washington Road. Waldorf, MD. Please join the family in celebrating Ronnie's life after the funeral services at First Baptist Church of St Charles, 136 Stoddert Ave. Waldorf, MD. Arrangements provided by Huntt Funeral Home.