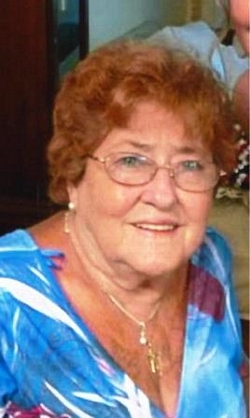 Gale L. Vaselaros, 75, of Lusby, MD formerly of Sykesville, MD passed away of June 5, 2016 in Prince Frederick, MD. She was born on March 12, 1941 in Baltimore, MD to the late Hilda Marie Freeman and George William Parr. She married Gus Vaselaros on December 2, 1961 in The Greek Orthodox Church of Annunciation and he preceded her in death.

Gale graduated from Western High School, Baltimore, MD in 1959 and went on to graduate from Strayer University. She was a Secretary for C&P Telephone Company until she started her family, raising three children. She loved her church, gardening, camping, fishing, crabbing, needle point, crocheting and spending time with her grandchildren. She moved to Calvert County, MD in 2011 from Carroll County, MD.

Gale is survived by her children, William Keith Vaselaros of Sykesville, MD, Nicol Vaselaros of Taneytown, MD, and Christina Vaselaros-Stevenson of Lusby, MD; sister, Sharon Toms of Sykesville, MD; and six grandchildren.

The family will receive friends on Thursday, June 9th from 2 pm until time of funeral services at 4 pm in Southern Calvert Baptist Church, 12140 H.G. Trueman Rd., Lusby, MD with Pastor Steve Fehrman officiating. Interment will be private. Contributions may be made in Gale's memory to Southern Calvert Baptist Church. Arrangements provided by Rausch Funeral Home.